Royal FloraHolland mechanises int'l supply Dockservices
Added on 23 November 2022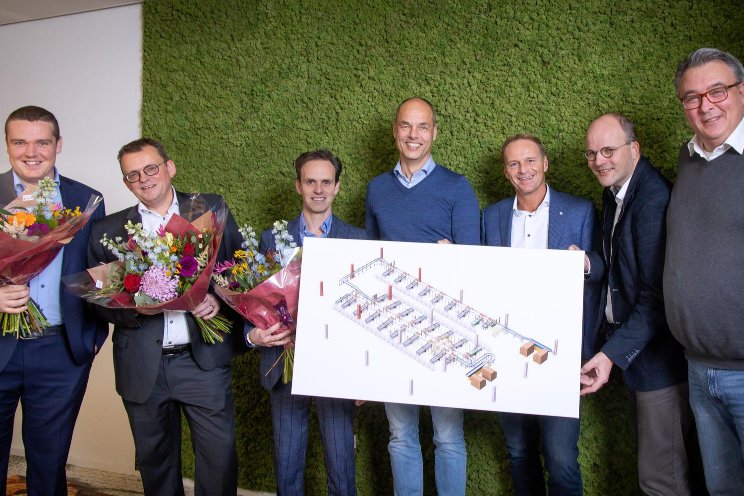 International buyers and growers have long cherished the desire to be able to supply and process larger volumes at Dockservices. Leendert-Jan Plaisier, COO Royal FloraHolland: "Both organising the most efficient logistics and international growth are important parts of our strategy. A good and reliable supply process and related services form the basis of the marketplace and are crucial to achieve the desired growth and efficiency. Mechanisation of Dockservices is a long-cherished wish of both our customers and Royal FloraHolland itself." The new sorting system will increase processing capacity from 800 boxes per hour now, to around 2,000 boxes per hour soon. In addition, processing will take place in a cool chain, from the moment of arrival on an aircraft pallet or sea container at Dockservices to being prepared for the customer. During 2023, the system will be prepared and tested so that it is ready for use for the 2024 peak.
Package of wishes from growers and buyers
During the design process, Royal FloraHolland asked agents, growers and employees to help think about the possibilities and principles of the design. Growers would like to supply larger volumes in a cool chain so that the quality of their product remains high. Agents would like to be able to accept larger volumes in combination with optimal trolley loading. For employees, physical load is important. A team led by Royal FloraHolland project leader Martin de Jong has been discussing the possibilities with various suppliers with these wishes and strict requirements. The choice to realise this ambitious project fell on BEUMER Group. Bert van Willigen, CEO-Managing Director BEUMER Group Benelux: "The Dock Services project combines wishes regarding efficiency, quality and ergonomics. Partly with these clear wishes and vision of Royal FloraHolland, it was possible to offer a suitable solution. We are therefore extremely proud to have been selected for the project." BEUMER Group realises a customised solution for the unique process of supplying flower boxes. With the realisation of the sorting system, further service expansion is possible, such as combining shipments and multiple forms of sorting shipments for a customer. The mechanisation of the process also greatly reduces the physical load of Dockservices employees.
BEUMER Group
BEUMER Group, with 5,400 employees in more than 70 countries, offers intralogistics solutions for transport, loading, palletising, packing, sorting and baggage handling.
In the photo: Tim Adriaens, Bert van Willigen, Brecht Bayen, Leendert-Jan Plaisier, Ron van 't Hoog, Martin de Jong and Michael Denton.