Orius-System optimized to be cost-effective
Added on 14 December 2022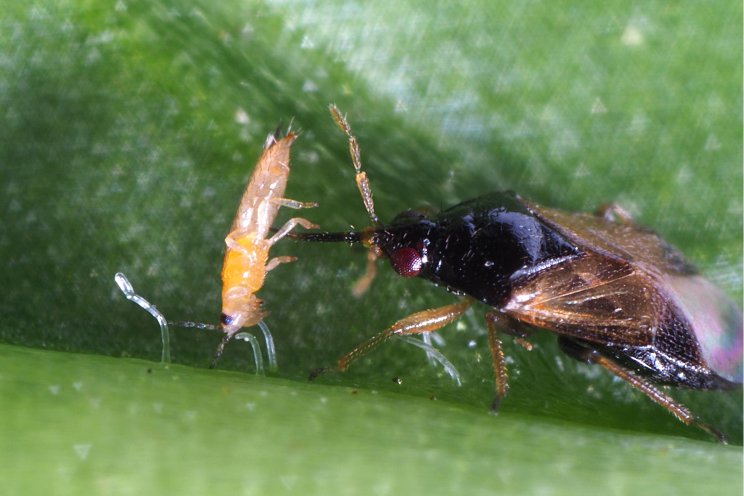 "As part of our continuous product improvement programme, we recently redesigned the packaging for our popular Orius-System," says Biobest Product Manager, Ines de Craecker. "The new 100% biodegradable cardboard carton contains a gel formulation providing a source of water for the predatory bugs during transport."
"Arriving in optimal condition, these improvements in overall Orius laevigatus quality have been observed to boost establishment and ultimately thrips control in commercial crops. Now, new laboratory trials confirm Orius females with access to this gel carrier live considerably longer. By providing a water source, the gel carrier boosts survival as well as overall fitness of the adults (Figure 1)."
Artemac™ to support Orius-System in the crop
"One of Biobest's core goals is to constantly look for ways to improve current strategies, to make growers' work easier and to keep it simple," says Ines.
Orius is central to efficient thrips control strategies in sweet pepper and other crops. Introduced early in the crop as part of preventative, inoculative biocontrol, good predator establishment is a key component of the overall strategy - with the progeny providing effective control later in the season.
"To enhance early establishment in the crop we recommend supplementary feeding," says Ines. "Ephestia kuehniella moth eggs are considered the 'gold standard' food for Orius, however their cost is a downside."
"To optimise control while protecting growers' margins, we recommend feeding Orius-System with standard Artemac™. User-friendly offering simplicity, Artemac™ can also be stored for long periods and is more cost-effective – it offers great value for money."
Empirical evidence suggests growers using Artemac™ are getting excellent predator establishment. Recent laboratory trials confirm these findings, with the survival of Orius adults with access to Artemac™ 40% higher than those with no access to this additional food (Figure 1).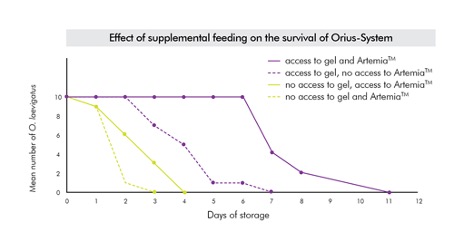 Figure 1: Lab trials showing the effect of supplemental feeding and access to gel in the packaging on the survival of Orius laevigatus adults during storage.
In further trials measuring egg laying, Orius females fed with standard commercial Artemac™ produced the same number of eggs as those fed with Ephestia (Figure 2).
"From these results we conclude that our more cost-effective standard Artemac™ is an excellent food source for improving Orius survival during shipment and egg laying for faster establishment in the field," says Ines.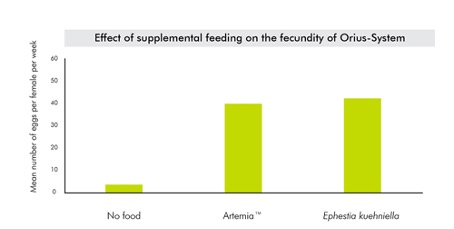 Figure 2: Lab trials showing the effect of supplemental feeding on the fecundity of Orius laevigatus female adults.
Don't release before flowers are present in the crop
"Sweet pepper flowers supply pollen and nectar that are vital for Orius, especially for this 'founder' generation of predators and hence is crucial to the long-term success of the strategy. A fact borne out in semi-field trials carried out in our Greenlab. In the absence of flowers, and hence pollen and nectar, the results showed Orius establishment was reduced by 78% (Figure 3)."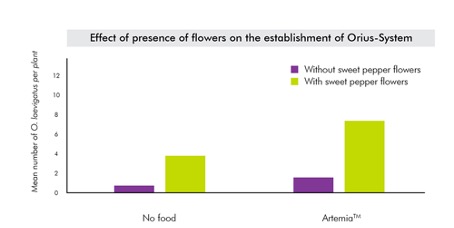 Figure 3: Semi-field trials showing the effect of the presence of sweet pepper flowers on the establishment of Orius laevigatus adults.
"In summary, to optimise early Orius-System establishment in sweet peppers, the crop should be in flower and the predators should have access to our gel carrier during shipment," says Ines.
"Once released, to encourage early establishment and egg laying, the Orius should be fed with Artemac™ – a cost effective alternative to Ephestia. At Biobest we recommend feeding twice, at a rate of 500 g per ha; initially at the time of predator release with a second dose of Artemac™ three weeks later, to support the first generation of Orius nymphs."
Want to know more? Contact Lise Verachtert (lise.verachtert@biobestgroup.com).