Why AppHarvest is the future of traditional farming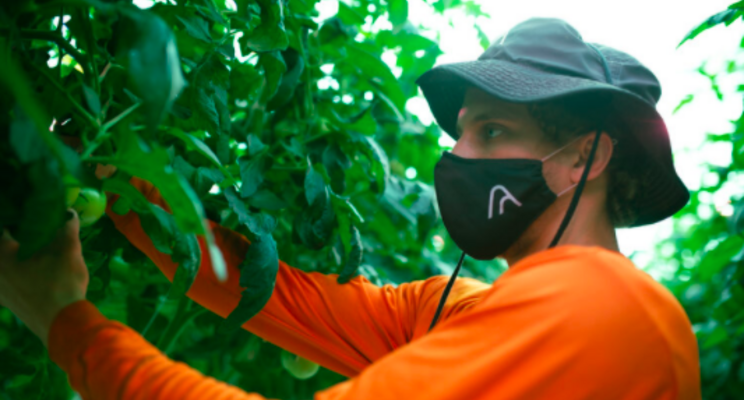 He hopes to achieve this by growing non-GMO, pesticide-free fruits and vegetables in a controlled environment using less water and less land — and doing it all on American soil.
In many ways, Webb is the Willie Wonka of the agtech industry. His Appalachian-based AppHarvest headquarters are a ticket to pure imagination and innovation. With larger-than-life dreams, the public school alum hopes to expand AppHarvest's central Appalachian headquarters and add additional high-tech indoor farms by 2025.
AppHarvest has even caught the attention of lifestyle mogul Martha Stewart, who visited AppHarvest in Kentucky in March and is an AppHarvest board member. Stewart met Webb at ChefDance in Utah, and they had a chat about sustainable agriculture. After shifting to a more plant-based diet herself, Stewart was eager to learn more about how AppHarvest was transforming the farming industry.
"There's no question of if this industry is going to take off," Webb said. "It's a matter of when. Now, it's simply about execution and scale. We have to figure out how to grow a lot more food with few resources in the middle of climate disruption.
The initial seeds of AppHarvest began with tomatoes, and the futuristic farming powerhouse is now branching out to include additional vine crops, berries, and leafy greens.
Using AI technology and a prototype robot named Virgo, AppHarvest features the world's premier cross-crop harvesting platform. Virgo is being developed to be used as a massive data capturing tool to promote additional sustainability on the farm.
"We do a great deal of data capture," said AppHarvest CTO Josh Lessing. "We have about 50 varieties of tomatoes that are in our data set. There's a lot of diversity in nature. We're layering a whole host of other things in there, including building out a workflow in a way that is Lego brick-able. When you go from a cucumber to a strawberry, you're not starting from scratch. You take the relevant Lego bricks that apply to both problems and add them to the new workflow as you work on a new crop and it makes working on new crops easier."
It's prime time for AppHarvest to flourish, according to Lessing. "This is not a project one could've attempted five years ago," Lessing said. "Now it is."
This isn't your grandma's greenhouse.
In many ways, AppHarvest's Morehead, Kentucky, headquarters is a 60-acre robot thriving in an area with a population of just 7,500.
"We're growing tomatoes in a glass structure, but the term greenhouse isn't very helpful because it's like comparing a 1950s sports car to a 2021 Tesla," Webb said. "Other than having four wheels and a steering wheel, there's not much in common. It's the same thing with what we're doing versus a 1950s greenhouse. We're a data-driven operation using industrial sensors and software to control the climate to give the plants exactly what they need."
AppHarvest is using AI and robotics coupled with one of the largest LED hybrid lighting installations in the world.
"We're using a glass structure because we're competing with dirty, open-field agriculture imported from other countries," Webb said. "And to do that, and to be sustainable, you need to harness nature for what it's good at. So we only turn on the grow lights when we're not getting enough micromole light from the sun. We use all the sun that we possibly can first."
The irrigation system at AppHarvest is another well-curated environmental asset. Rainwater is collected on AppHarvest's roof and stored in a retention pond. "We're using nature first, then layering technology on top of that," Webb explained. "For us, it's not only sustainability. In the long term, it allows us to be cost-competitive."
Webb added, "We are using a diverse group of employees at AppHarvest, with people from computer science and hard engineering backgrounds working on robotics. We have people with more of a plant science background or tactical agricultural background to grow the plants, and crop care specialists who tend to daily harvesting and plant care-all of whom are earning a living wage and receiving full health care benefits for which we pay the full premium."
"For me, the exciting piece is the upskilling opportunity of our team. Most colleges in the U.S. are preparing people for what farming has been versus what it is today for us and what it's going to be 10 or 20 years from now," Webb said. "The last great technological revolution in American farming that most folks can think of was when the tractor was introduced. We're teaching our team how to use smart devices to operate software and use industrial sensors to control robotics and LED lights."
Click here to read more.


Photo Courtesy of App Harvest
Source: Agritech Future