Vertical farming is finally growing up in the UK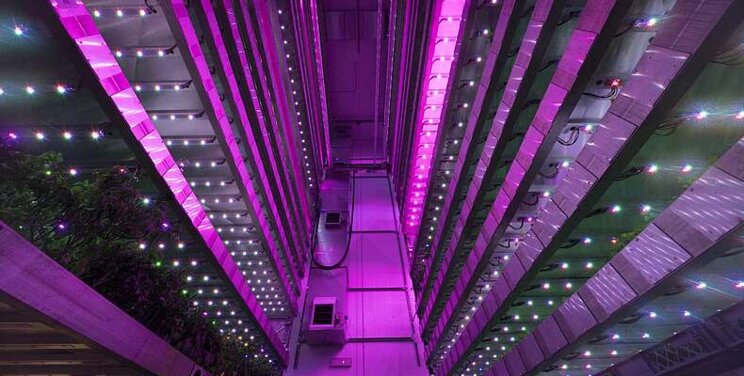 The only way is up for the UK's nascent vertical farming industry. Promising hyperlocal produce with a tiny environmental footprint, the sector is blossoming amid rising grocery prices and concern about the climate.
The Dutch sustainable agriculture specialists One Farm is the latest firm to seal a deal to build a vertical farm in the UK. It will turn a disused Suffolk warehouse into a facility for growing leafy greens at scale.
Meanwhile, in Gloucestershire, the Jones Food Company is preparing to open its second vertical farm, having cut the ribbon on one in North Lincolnshire in 2019. Backed by the Ocado Group, the facility in Lydney will - the company claims - be the largest of its kind in the world. It is due to open in autumn.
Vertical farming means growing food indoors, in tiers many storeys high. Banks of LEDs provide vital light for crops, which are grown using hydroponics - where plant growth is fuelled by liquid nutrients fed into a soil-free medium.
On its 6,400sq metre site near Newmarket, One Farm is aiming for an annual 415 tonnes of leafy veg, herbs and salad crops - and is banking on a phase two expansion to stretch output to 1,000 tonnes. The Jones Food Company's new facility will be about twice as large.
One Farm's CEO, Mira Merme, said innovation and investment in food production technology was vital to improve food security in the UK and combat an over-reliance on imports.
Photo: IGS
Source: Agritech Future