Vertical farm to supply basil and salads to London restaurants
Added on 23 November 2021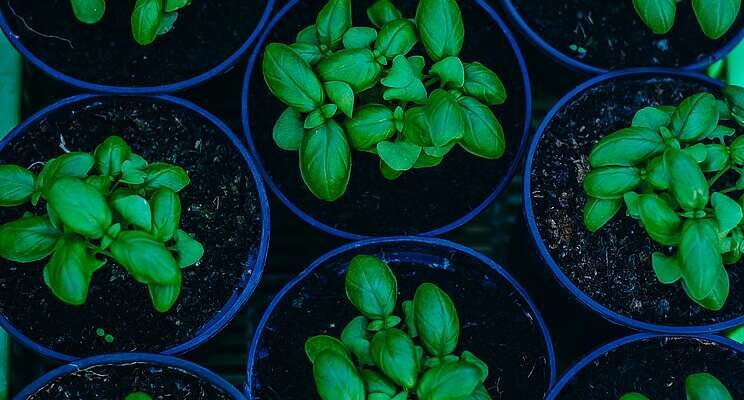 The boss of a vertical farm supplying London's restaurants with locally-grown herbs and greens says he wants to open more "data driven" farms across the UK.
Chris Davies and Matt Chlebek founded Harvest London four years ago and now run a hi-tech farm in Leyton that has grown more than 100 different edible plants - including basil and lettuce.
Vertical farming is becoming more popular as a way of growing food in the UK that would otherwise have to be shipped from overseas. The hydroponic systems mean plants can be grown indoors under controlled conditions without pesticides and using far less water.
Harvest London is now on its second farm - and CEO Chris says it is operating at 100% capacity as demand remains high with customers becoming increasingly aware of the need to reduce food miles.
Chris says his five-year vision is to create a network of farms across the UK to allow it to service more customers without adding food miles.
He said: "The first one that we're looking to build is definitely going to be in London - within the M25.
"The next one - we have opportunities that we're exploring in Birmingham, we have opportunities that we're exploring up in Manchester and Edinburgh.
"By all of these farms being connected and being a single network, the vision is that we should be able to understand where demand comes from, and be able to service that demand from the closest farm.
"So if we for example had a farm in London, a farm in Manchester and a farm in Edinburgh, and an order came in from Sheffield, then we need to be able to look at the capacity across the network, and we should be able to shift and move things around, so that we're servicing the customer from the nearest farm, thereby improving sustainability in production."
Chris said the last three years had seen "a massive uptick in vertical farming investment".
He said: "If you think about farming as a continuum -on the left hand side you have traditional agriculture, in the middle you have greenhouse growing right, which is a tried and tested method of growing, and then on the far end of that continuum we have vertical farming.
"We have a level of precision that neither of those other older methods of growing have.
"The level of precision allows us to fundamentally operate like a manufacturing organisation. We just so happened to be manufacturing green leafy vegetables.
"This isn't a matter of 'will it or won't that grow'. It's a matter of how well you can make it grow, and the data side of things is a very important aspect in terms of how can we constantly optimise, and grow more and produce more with minimal impact."
Click here to read more.
Image by adestuparu from Pixabay
Source: Business Live