Perfect basil growth environment with IGS vertical farming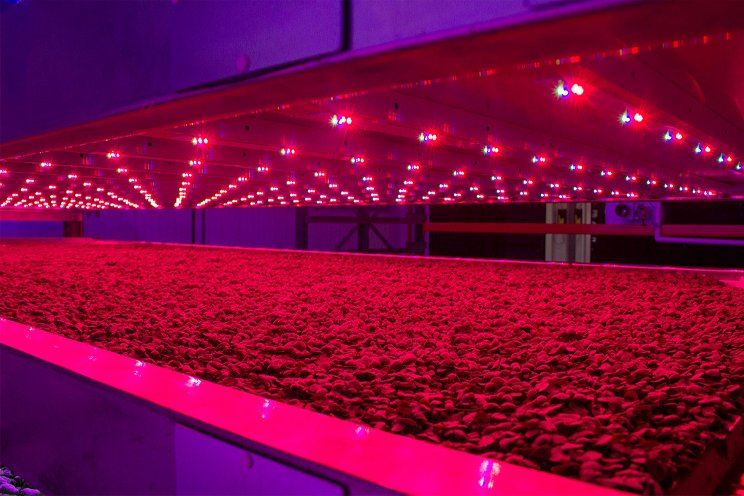 An IGS vertical farm uses Total Controlled Environment Agriculture (TCEA) to completely control all elements of the growing environment; heat, light, nutrient delivery and water.
How to grow basil indoors in one of IGS vertical farms
Using an IGS vertical farm can minimise waste, maximise profit, and streamline crop scheduling. Our bio-secure environment prevents the issue of pests and diseases associated with growing basil (such as downy mildew, Fusarium wilt [root rot], whiteflies, aphids, spider mites, leaf spot, to name a few) and allows you to grow basil that is nutritious without the use of pesticides. This stable growing environment ensures consistency of output, allowing you to increase growing cycles, improving yield and ultimately delivering improved revenue.
The flexibility of our system means that basil can be grown as either a potted plant, or processed for packaging a cut plant.
Germination takes place outside of the vertical farm in a germination chamber, where the seeds are sown and exposed to the proper conditions, allowing them to grow into seedlings. The seedlings are then transported into our Growth Trays with Lights (GTL's) and placed inside the tower where, depending on the required specification of basil, a particular growth recipe is applied.
At IGS, a growth recipe is determined by exacting control over nutrient mix, temperature, light and humidity to deliver the perfect crop, every time.
Once the basil has reached its optimal condition, according to the specific growth recipe, it is then removed from the tower via our automation system, ready to be harvested.
How to harvest basil
The automation in an IGS vertical farm alerts system owners to the perfect time for harvesting. We would recommend harvesting automation for the quantities of basil produced by an IGS vertical farm. We do not provide harvesting technology, but work with a network of partners who provide systems which integrate easily into our platform.
Photo: IGS