The summit shows the industry's future in a digital world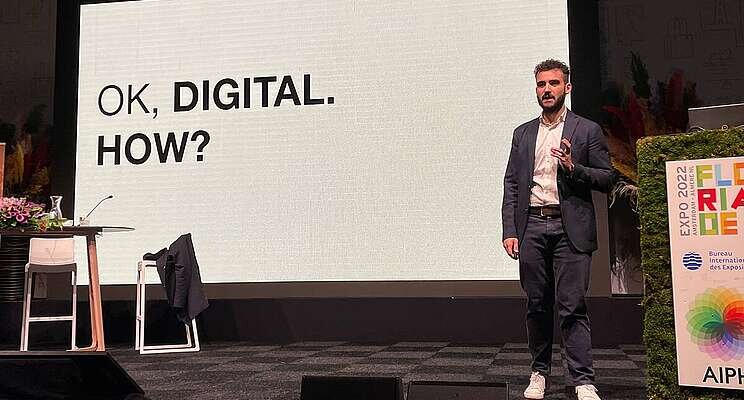 "'Digital' is a life attitude," said keynote speaker Domingo Iudice. "You have to adapt quickly and surf all the opportunities available. It's painful, but it works."
Domingo founded the digital marketing agency Brainpull, based in Italy, in 2012. Today, the company has 80 members of staff in Puglia, Milan and the US. In his presentation, he used examples from his career to illustrate the immense benefit of using digital tools to reach potential customers.
"Digital squares change rapidly, but they always offer great opportunities. They are the largest meeting places in the world and influence customer purchases. Digital tools allow businesses to gain feedback, control processes and connect with people."
Industry leaders panel
AIPH Secretary General Tim Briercliffe led a panel on 'Our future in a digital world.' He was joined by industry leaders Jan van Dam - CEO of Dutch Flower Group; Steven van Schilfgaarde - CEO of Royal FloraHolland; Abe van Wingerden - Co-CEO of Metrolina Greenhouses; and Pablo Bazzani - Sales and Marketing Director for Plazoleta Flowers.

Photo: Domingo Iudice of BrainPull Marketing Agency, Italy. Courtesy of AIPH.
Source: AIPH