Terra Nova releases new Echinacea and Nepeta varieties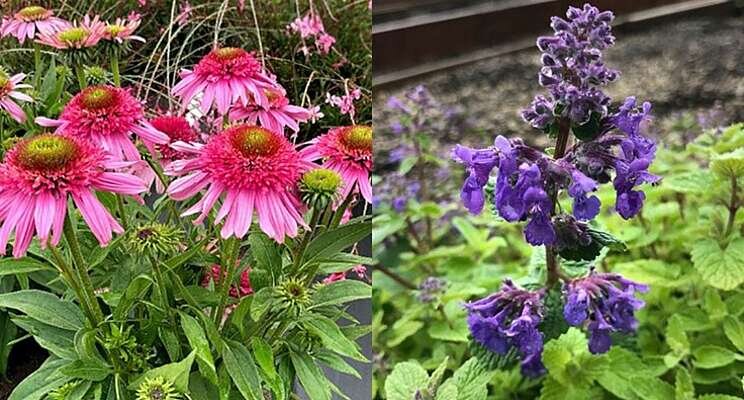 Terra Nova Nurseries has unveiled two new varieties: the Echinacea SUNDIAL 'Pink' and the Nepeta NOVA 'Blue.'
Echinacea Sundal Pink
This new Echinacea variety features massive 5" blooms with emerald-green eyes shifting to a vibrant pink cone and long-arching, bubble-gum-pink petals.
Echinacea SUNDIAL 'Pink' has a short and branching growth habit from the base with stiff, upright stems to display a full look, making it ideal for containers, mixed beds, mass plantings, borders and fronts of beds. The plant blooms June through October and has a variety of special uses, including being an effective pollinator attractor and a gorgeous cut flower; it is also fragrant and requires low-water usage.
Being deer-resistant and well-suited for the American deep South are other benefits of Echinacea SUNDIAL 'Pink.' USDA Hardiness Zones for this stunning coneflower are 4-9.
The deciduous perennial desires course and slightly mineral soil when planted in gardens; it also prefers to be moderately dry between waterings during finishing time in greenhouses and favors full sun. This new echinacea grows most actively in the summer with a finish time to 4" of 6-8 weeks and a finish time to a gallon of 12-14 weeks. SUNDIAL 'Pink' has a height of 16", a width of 22" and a flower height of 24".
Nepeta Nova Blue
Nepeta NOVA 'Blue' has a trailing growth habit, making it ideal for masses, mixed beds, fence lines, parking strips and sunny banks. The new catmint, along with a fast overall growth time, features an extended bloom time from June through October that causes its incredibly clean, crisp and tidy look to continue long into the season.
Photo Courtesy of Terra Nova via Greenhouse Management
Source: Greenhouse Management