Circularity program to tackle plastic waste in agri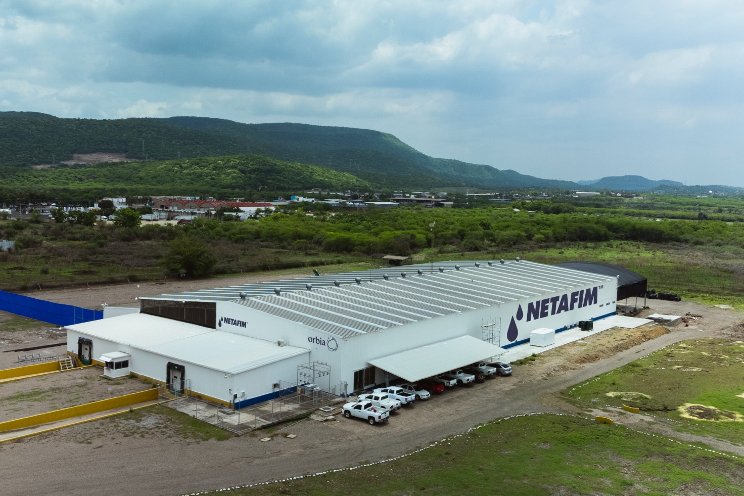 Orbia's precision agriculture business Netafim, the global leader of sustainable precision irrigation solutions and agricultural projects, today announced the opening of Mexico's largest agricultural plastics recycling facility in Culiacán, with an initial operating capacity of over 3,000 tons of plastic per year.
Located in Mexico's vegetable heartland and designed with full circularity in mind, Netafim's state of the art facility will receive used driplines from farmers across the country, where end-of-life irrigation pipes from any manufacturer will be collected, shredded, washed and pelletized. The regenerated material will then be incorporated into new driplines, ensuring the high performance and quality standards that have been synonymous with Netafim since its invention of drip irrigation in 1965.
Netafim is spearheading the irrigation industry's approach to zero waste in farmland and the sustainable treatment of end-of-life plastics, having used over 170,000 tons of regenerated plastic during the last few years across its global operations. Working towards full circularity, Netafim currently operates a variety of recycling programs including a plant in Fresno, California as well as circularity programs in Australia, Israel, Peru, Chile and Spain among other countries. By 2030, Netafim aims to have all its driplines contain at least 45% recycled content.
"At a time when precision irrigation solutions are needed to combat extreme drought and other weather conditions, our global ReGen Circularity Program advances our mission to make farming more environmentally responsible," said Netafim's Chief Sustainability Officer John Farner. "One of our top five markets, Mexico is a major agricultural exporter and our Culiacán facility provides the region's farmers with an efficient, holistic and rewarding solution to help achieve their sustainability goals. Mexico produces more than 300,000 tons of agricultural waste each year. Netafim is proud to work with our customers to minimize the impact of plastic waste on the environment."
Mexico's growing agricultural economy exported goods worth $44.4bn in 2021. Demand for its seasonal produce year-round, the country's soil and climate conditions, as well as consolidated trade agreements favor the production and export of crops such as tomato, peppers, cucumber, cabbage, onion and fruit.
Netafim's 40,000 square meter plant in Culiacan will incorporate a water recirculation system in all processes; a photovoltaic setup for 100% clean energy source and a state-of-the-art laboratory to ensure that every regenerated pellet is manufactured under strict standards.

About Orbia
Orbia is a company driven by a shared purpose: to advance life around the world. Orbia operates in the Polymer Solutions (Vestolit and Alphagary), Building and Infrastructure (Wavin), Precision Agriculture (Netafim), Connectivity Solutions (Dura-Line) and Fluorinated Solutions (Koura) sectors. The five Orbia business groups have a collective focus on expanding access to health and wellness, reinventing the future of cities and homes, ensuring food and water security, connecting communities to information and accelerating a circular economy with basic and advanced materials, specialty products and innovative solutions. Orbia has commercial activities in more than 110 countries and operations in over 50, with global headquarters in Boston, Mexico City, Amsterdam and Tel Aviv. To learn more, visit: orbia.com.
About Netafim
Netafim, Orbia's Precision Agriculture business, is the world's largest irrigation company and a global leader in precision agriculture solutions committed to fight scarcity of food, water and land, for a sustainable future.
Founded in 1965, Netafim pioneered the drip revolution, creating a paradigm shift toward precision irrigation. Today, specializing in end-to-end solutions from the water source to the root zone, Netafim delivers irrigation and greenhouse projects, as well as landscape and mining irrigation solutions supported by engineering, project management and financing services. Netafim is also leading the way in digital farming, irrigation and fertigation, integrating real-time monitoring, analysis and automated control into one state-of-the-art system.
With 33 subsidiaries, 19 manufacturing plants, 2 recycling plants and more than 5000 employees worldwide, Netafim delivers innovative, tailor-made irrigation and fertigation solutions to millions of farmers, allowing smallholders to large-scale agricultural producers and investors, in over 110 countries, to grow more with lessTM.
See how Netafim's solutions are driving sustainable agriculture and a food secure future at www.netafim.com.