Sunbeam Social Media Award celebrates vibrant communities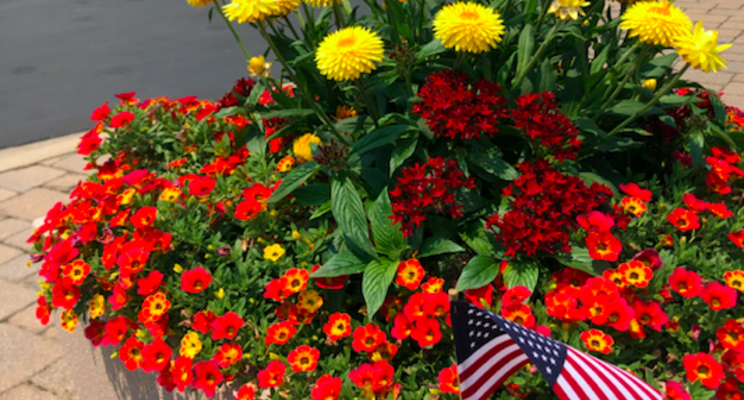 CONTEST DETAILS

Anyone can enter and there's no limit to the number of entries.

1. Create a digital photo album showcasing how your town is Alive With Flowers. Include captions describing the pictures.

2. Post it to your Facebook and/or Instagram accounts and tag the pages of Suntory Flowers and America in Bloom.
www.facebook.com/SuntoryFlowers, www.facebook.com/americainbloomusa, www.Instagram.com/suntoryflowers.na/, www.Instagram.com/americainbloom/
3. Deadline to enter is July 31st.

4. Finalists and winner will be announced Saturday, October 1, 2022, during the America in Bloom Symposium and Awards Celebration in St. Louis.

5. In addition to the recognition, the winner will receive a prize of 210 21-cell Sun Parasol mandevilla plants (10 trays) to plant a tropical paradise in 2023!
The award is inspired by Suntory's first yellow mandevilla, Sun Parasol Original Sunbeam. It's loaded with flowers - like the towns in America in Bloom! This year also marks the 20th anniversary of the revolutionary Sun Parasol mandevilla brand, which brought the gorgeous tropical blooms into mainstream gardening and landscaping all over the world.
"In addition to the award being inspired by the phenomenal response to Sunbeam, we've been promoting how flowers brighten our world in our Alive With Flowers campaign." says Delilah Onofrey, marketing director for Suntory Flowers in North America. "This is a great opportunity to take that message to the next level and really engage with those planting pride in their towns."
America in Bloom is a nonprofit organization dedicated to promoting nationwide beautification and community revitalization using flowers, plants, trees, and other environmental lifestyle enhancements. Its mission is to create welcoming and vibrant places to live work and play. To date, more than 21 million people in nearly 300 communities have been impacted through their involvement in America in Bloom.
The Alive With Flowers - Sunbeam Social Media Award will engage floral enthusiasts through a fun contest. AIB Executive Director Laura Kunkle says, "We are honored to be part of this opportunity for communities to showcase their beauty, and we are grateful to Suntory for supporting the AIB organization and its annual symposium."
For more information about America in Bloom and to register for the Symposium and Awards Celebration, visit www.americainbloom.org.
Source: HortiBiz