PVG releases New 2023 Retailer/Landscaper Guide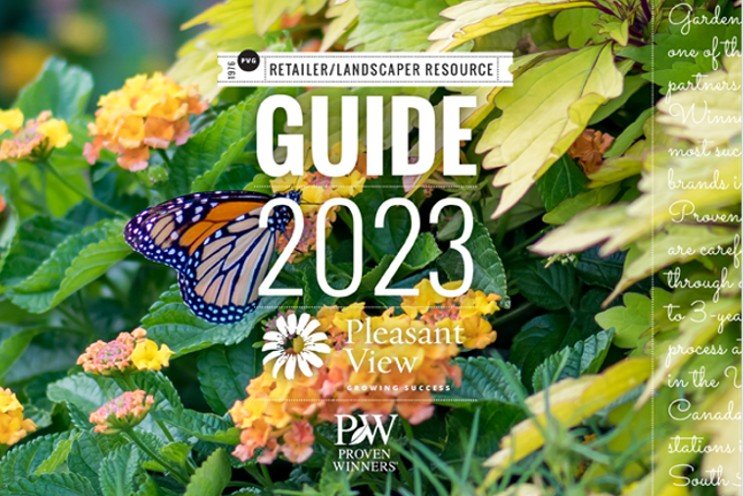 "It's exciting to present our customers with this new catalog," said Andy Huntington, GM at Pleasant View Gardens. "We continue to work diligently to add new varieties and programs that match industry trends for the season and help our customers become more successful. And, I have to say, this year's offering is one of our best yet."
With 120 pages chock-full of glorious flowering plants, the new Pleasant View Gardens Retailer/Landscaper Guide provides everything a garden center needs for the coming year. From a look at the three new Proven Winners® national recipes (Acapulco Sun, Misty Seas, and new Rockin' Rush) to the Proven Winners national plants of the year (Truffula™ Pink Gomphrena, Dolce® Wildberry Heuchera, Heart to Heart® Scarlet Flame Caladium, Let's Dance Can Do!™ Reblooming Hydrangea, Ringo All-Star™ Rosa, and Limelight Prime® Hydrangea Paniculata) to five more additions to Proven Harvest®, the herb, vegetable and fruit line from Proven Winners®, six new Proven Winners® Proven Accents® plants, 19 new Proven Winners® annuals, and 68 new ColorSmart® Perennials & Shrubs. The easy-to-use design provides a quick and straight-forward way for growers to peruse the latest offerings from Pleasant View.
This includes 128 recipes (14 of them new), specifically selected for vibrancy and performance, along with the full roster of existing top-selling annuals, perennials, shrubs, grasses, mums, asters, herbs, vegetables, and fruit.
The new book also highlights the many benefits of working with one of the most powerful consumer gardening brands around, Proven Winners®. From its recognizable branded containers to one of the most successful genetics programs in the world, Proven Winners® brings a lot to bear for Pleasant View customers in the way of new varieties, new programs, and unparalleled marketing support.
To view an animated flipbook version of PVG's new Retailer/Landscaper Guide, download your own digital file, or request a hard copy of your own, visit www.pwpvg.com, or call 603-435-8361.
IMAGE CAPTION: Pleasant View Gardens releases its new 2023 Retailer/Landscaper Guide available at pwpvg.com.