Shanita Penny signs on to keynote at Resilient Harvests Conference
Added on 19 September 2022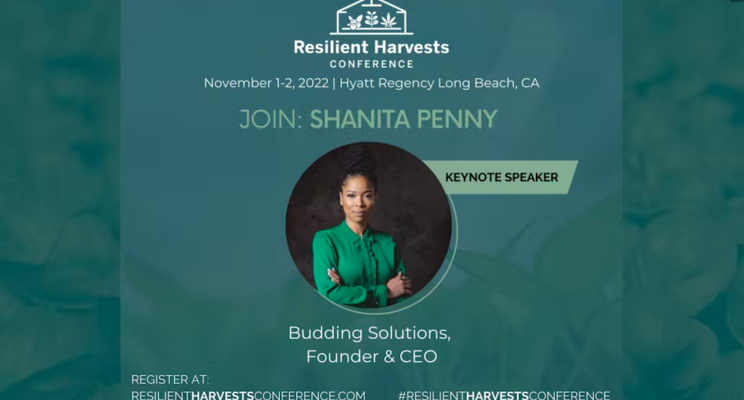 Penny, an alum of North Carolina Agricultural & Technical State University, has certifications in project management and Lean Six Sigma practices as well as a master's in business administration from the University of Baltimore and Towson University. For more than a decade, she has consulted with Fortune 500 companies such as Pepsico, McCormick and Company, and JDA Software to develop contemporary management strategies that improve business performance.
Penny has demonstrated her passion for entrepreneurship, social equity in business, and eliminating the stigma of cannabis by serving as a senior advisor to the Coalition for Cannabis Policy, Education and Regulation. In addition to providing boutique cannabis business consulting through Budding Solutions, Penny recently joined bipartisan Washington, D.C. firm Forbes Tate Partners as a senior vice president of public affairs, counseling clients and partners on the evolving cannabis market sector. She continues to advocate for equitable U.S. cannabis regulations that support responsible consumption, clinical and scientific research, and access to capital that will fuel industry growth.
Back in 2019, Penny spoke with CashColor Cannabis podcast during the New Orleans MJBizCon regarding the intersection of the cannabis industry with diversity, equity, and inclusion issues. She cited impacts on communities that were "devastated by the War on Drugs" that have been unable to capitalize on more recent economic opportunities presented by legalized cannabis operations. Her call to action was to "be an advocacy champion" and discard outmoded conceptions about cannabis consumers, business practices, and financial support to assess and create more opportunities for legalized cannabis operations to thrive.
On November 2, Penny will present "Achieving equitable outcomes via an efficiency workforce strategy," building from her experience and perspectives on cannabis advocacy and social activism to explain ways to position businesses to grow by engaging local economies with cultivators.
Image: Budding Solutions founder and CEO Shanita Penny brings insights into cannabis business, strategic consulting, policy, and advocacy to Resilient Harvests Conference. Courtesy of LEDs Magazine.
Source: LEDs Magazine