RII forms team of industry experts to tackle water circularity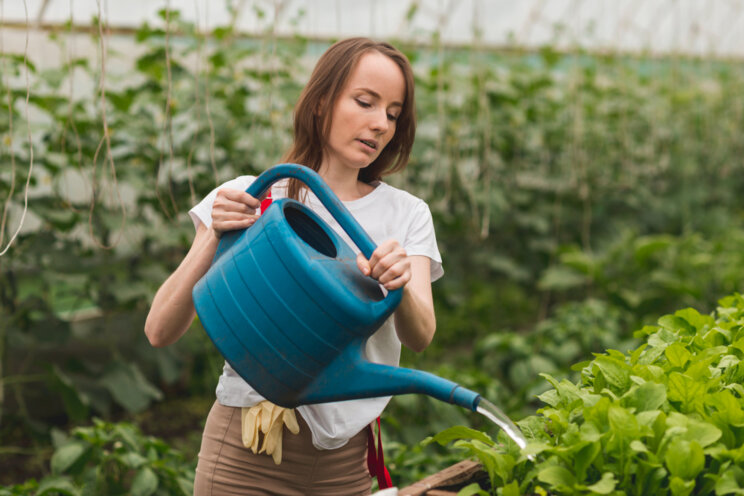 Resource Innovation Institute (RII), the leading not-for-profit energy and water benchmarking organization providing resource efficiency best practices for controlled environment agriculture (CEA) producers, announced today the formation of the Water Circularity Working Group, a team of experts tasked with identifying best practices for CEA farmers to eliminate wasteful water use practices and recycle water to be more efficient.
"Water is the new gold, and it is the driving conversation in most CEA operations at the moment," said Rob Eddy, Technical Director at RII. "Today we hear a lot of news about water scarcity, especially in the West, and it is a huge concern. But there are also water challenges faced by farmers even in areas where water is plentiful. The mission of our Water Circularity Working Group is to find solutions for water concerns across all types of geographies and for both large and small operations. The goal is to help manage scarcity and reduce waste."
The 25-member group met for the first time in August and will be working closely over the coming months to produce a best practices guide anticipated to be available in Spring 2023. Members of the group include industry experts from global suppliers of equipment and horticultural supplies, water treatment and irrigation, builders and construction, facility designers and academia.
"I am so thrilled with this wide-ranging group of professionals," Eddy said. "Part of the challenge of solving water issues is the vast differences across regions and facilities. How do we identify uniform practices when the circumstances in different areas are so varied? The wide breadth of experience this team brings to the table offers us a real opportunity to design solutions that help meet the needs of everyone."
The cost of water is one variable that can differ wildly from region to region, and even state to state, according to Eddy. The source of water used in different regions and how that impacts impurities and contaminants found in the water is also a strong consideration factor when designing best practices. In addition, the size of an operation and its knowledge/experience must also be considered. Identifying best practices that can be applied across varying operations will be a critical challenge for the work group.
"Some businesses have more technology tools than others, there are small operations and large operations and all types of other variables," Eddy said. "So we need low-tech solutions for some operations and then we need solutions for companies that are building and managing really large facilities."
One challenge all indoor farmers have in common is water quality and waste that is produced in the management of any CEA operation. The work group will tackle best practices on waste management to address this concern.
"We all have to worry about not contaminating water and not contaminating our environment," Eddy said.
The RII Water Circularity Working Group will be meeting over the following six months to complete their research and development, at which time the team will develop its best practices guide. The guide will undergo a peer review process before being published in early 2023. To learn more about RII's Best Practices for CEA Operations guides or download other available best practices guides, visit their resource page here. Hear the latest from the working group at the upcoming Resilient Harvests Conference on November 1-2.
Technical Advisory Council Company Representation
AQUASGROUPS, Argus, Bear Ag, BioTherm Solutions, Colorado State University, Dosatron, Dramm, Evergreen Consulting Group, Greenhouse Design LLC Engineering Group, Grodan, H2O Engineering, Hawthorne, IMEG, Infinite Acres (80 Acres Farms), Kubo Greenhouses, PB tec, Plenty, Priva, Rutgers, Silver Bullet, Surna, University of Florida Gainesville, USDA NRCS, van der ende pompen, Vertical Harvest, Wageningen University, Water Environment Federation (WEF), and Zwart.
About Resource Innovation Institute: Resilient harvests for the next hundred years
Resource Innovation Institute is an objective, data-driven non-profit organization whose mission is to measure, verify and celebrate the world's most efficient agricultural ideas. We cultivate a better future for all of humanity with our vision of resilient harvests for the next hundred years. Our consortium of members brings perspectives from across the field—uniting architects and engineers, growers and operators, researchers and analysts. Founded in 2016 to advise governments, utilities and industry leaders on the resource impacts of indoor cultivation, an under-studied and resource-intensive market, we have since extended our research to other sectors in partnership with the US Department of Agriculture. To take on the challenges of our changing world, we believe that food, medicine and other vital crops demand data-driven insights, securely shared with integrity. By nurturing the human connections in our complex and dynamic industry, we can build deeply restorative systems for people and the planet. Visit our website at ResourceInnovation.org. Follow us on LinkedIn, Facebook, Twitter and Instagram.
Image by Freepik