Robocrop: The robot assistants to increase productivity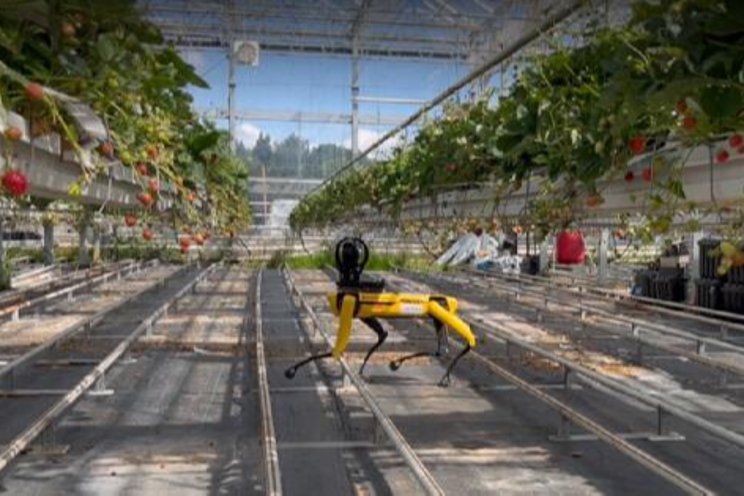 Researchers at WMG at The University of Warwick are investigating how they can apply autonomous robotics to greenhouses and croppable fields.

Continuous and repetitive monitoring of crops is vital for fruit and veg production, as the sooner that pests, diseases and infrastructure issues can be spotted, the sooner they can be rectified. This means that growers get the information they need to make quick decisions that save their crops and reduce losses.

A state-of-the-art Crop Monitoring Robot (Crombot) is proving that robots could become the perfect helper to support growers – especially when faced with labour shortages. Crombot is an autonomous four-wheeled robot, able to navigate itself around a green house, avoiding other workers and even following specific workers on command.

Crombot's robotic arm has a camera on the end which allows it to carry out all the required monitoring duties, and can even identify the ripeness levels of strawberries, letting the grower know which areas of the greenhouse is ready to be picked.

Working with local salads producer, Valefresco, and technology developer Eiratech, the team is now working on expanding Crombot's capabilities to monitor leafy greens, and will also be looking at how the use of microphones could pick up on infrastructure issues such as leaky irrigation systems, which impacts the crop's hydration levels.

Other developments by the group include "Spot", an autonomous four-legged robot dog supplied by Boston Dynamics, for use in agriculture. Spot is designed to work in difficult and hazardous environments, and this innovative robot system has proven itself so far to be very impressive in handling a variety of greenhouse and outdoor environments.

Benefits of this system include being able to walk up and down steps, over heating rails and other obstacles as well as tackling muddy fields.
Photo provided by The University of Warwick