An overview of indoor farm SOPs
Added on 22 November 2022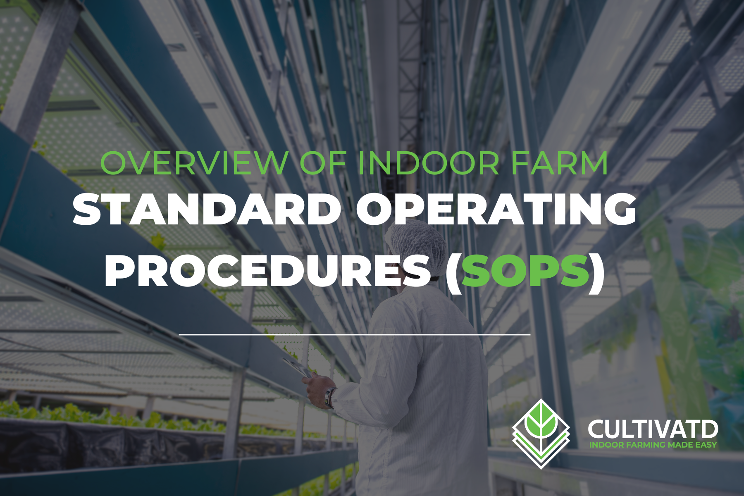 Introduction to Standard Operating Procedures
The goal of any producer in the agri-food industry is to efficiently produce a high-quality and safe food product. This is especially true in indoor farms, whose product is often of exceptional quality. An important document supporting this goal is the farm operations manual which includes standard operating procedures (SOPs) and sanitation standard operating procedures (SSOPs).
The SOPs in an operations manual covers everything from how to wash your hands to how to manage shipments. SOPs outline what to do, who needs to do it, how to do it, and when it needs to be done. They are an integral difference between farms which operate as businesses and hobby projects. Standardizing procedures allows for uniform, continuous workflow and allows for teams to seamlessly expand in numbers while maintaining the overall quality of work.
In the agri-food space, the goal is to produce or process food safely, and these procedures contribute to the overall food safety plan, from food production to processing.
Comparing Indoor Farming to Traditional Farming
Many indoor farm SOPs are more similar to those of food processing plants or laboratories, than traditional outdoor farms. As the environment in a Controlled Environment Agriculture (CEA) facility is closed, there is more emphasis on the movement of people and materials into the space, as it is a critical control point to maintain a clean farm space.
The requirements for an operations manual and food safety plan are often outlined by a food safety certification, which is given by a certifying body. Currently, there is a CEA Food Safety certification, but it is not recognized alone and must be accompanied by an accredited certification. It should be noted that many criteria of traditional food safety certifications are not applicable in indoor farm settings and result in the farmer having to weed through a large amount of information, while ruling much of it out.
Overall, the standard structure of an SOP for an indoor farm is largely unchanged from traditional templates, but specific considerations should be made regarding what to include and how to optimize the documents' structure.
Top Nuances Discussed in an Indoor Farm's SOPs
Procedures for Biosecurity
One of the top advantages of vertical farms is being a majorly sealed environment, especially the increased exclusion from pests. To maintain this advantage the utmost level of biosecurity must be adhered to. SOPs related uniquely to biosecurity are not enough, rather each SOP involving work in the farm should highlight the biosecurity actions required.
Biosecurity has many facets, including hygiene best practices, sanitation and diligent record keeping; all of which contribute to maintaining a pest-free and healthy farm. All SOPs should include sanitation steps in their protocols. It may seem obvious in many cases, but it is important to ensure no oversight of these steps. Hand washing and sanitizing SOPs are required to obtain food safety certifications, and although they may seem superfluous they speak to the thorough approach which must be taken and acknowledge that nothing should be taken for granted in terms of people's knowledge of proper safety protocols.
Image: Cultivatd