Vertical farming a local success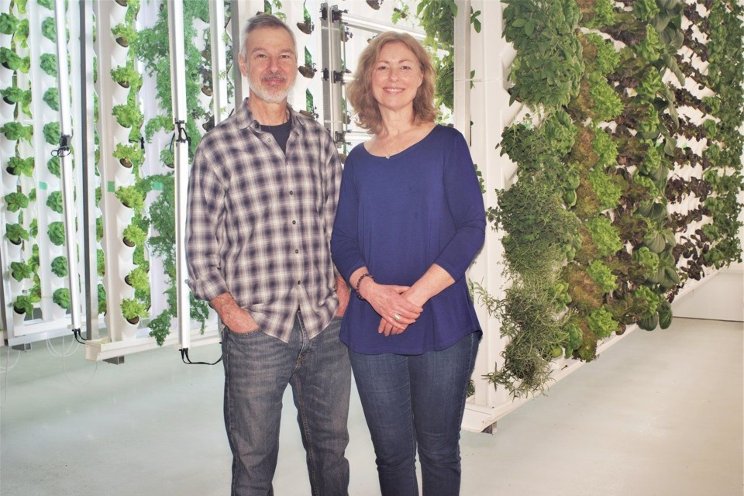 Husband and wife team Romano Marchi and Robin Gibson own the operation and Marchi says the technical name for this type of growth is controlled environmental agriculture.
However, it's better known as vertical farming because vegetables are grown on double-sided towers one on top of the other in pod-like cells. Marchi says this is the key to the success and efficiency of vertical farming because it allows one to grow many vegetables in a small amount of space. He says in a typical farm field in Ontario people are lucky to get one or two heads of lettuce over the growing season for every two square feet and three to four heads in California because the season is longer.
Marchi compares that to just one of his six towers which are 16 feet long and have 20 double-sided rows. Each row has 12 grow sites on one side and another 12 on the other. Marchi says this allows him to grow 24 lettuce plants at a time on each row and it's a process he repeats 12 times a year because of the controlled indoor environment. The six towers give Marchi 2,880 grow sites over an area that's well under 300 square feet.
"You would need several acres to accomplish this amount of growth in a farmer's field," Marchi said.
A computer draws the exact amount of nutrients the plants need from two tanks while hoses on top of each tower drip water down on each plant through a controlled on/off basis.
"So you use only a fraction of the water because it's recirculated, redosed and sterilized," Marchi said. "In fact, vertical farming uses 90 to 95 percent less water than traditional farming," he added. "Vertical farming is also a way to address areas that experience drought."
The grow sites contain no soil and the plants are suspended in a peat-based growing medium. Marchi says this also helps address the issue of soil depletion which is a major issue with traditional agriculture.
Photo: Romano Marchi and Robin Gibson of Lount and the grow site towers that make up their indoor vertical farm. The husband and wife business team have six towers in place currently but expect to put up even more towers in the near future. Credit: Rocco Frangione, Local Journalism Initiative.