AeroFarms celebrates World Environment Day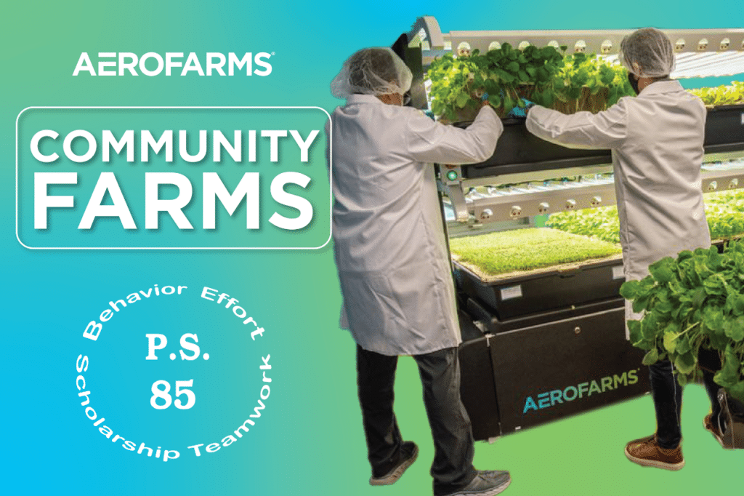 AeroFarms®, a Certified B Corporation and leader in indoor vertical farming, will celebrate World Environment Day this coming Monday, June 5, at PS 85 The Great Expectations School with the official launch of its AeroFarms Community Farms program. This program promotes hands-on environmental education and year-round access to fresh and nutritious leafy greens through the proprietary AeroFarms unit and STEAM (Science, Technology, Engineering, the Arts and Mathematics) curriculum. The launch and celebration will help create life-long nutrition learners and will cultivate students and parents' interest in incorporating more healthy leafy greens into their daily diets.
"Our PS 85 community is extremely excited to celebrate World Environment Day together and partner with the AeroFarms Community Farms program to bring hands-on, STEAM learning to life in such a unique way for our students to experience growing and tasting their own food from seed to plate," said Sara Medina, Principal at PS 85.
World Environment Day is a time to reflect on how our society can encourage worldwide awareness and action to protect our environment, an important component to both the PS 85 community and AeroFarms. Being built with circular solutions in mind and creating opportunities for environmental protection is vital to AeroFarms product line and mission, which is to grow the best plants possible for the betterment of humanity.
"This World Environment Day, we are excited to celebrate with key partners like PS 85 and the broader AeroFarms network as we continue our efforts to bring healthy food and STEAM education to communities where this can best make a positive impact," said Jason Ginsberg, AeroFarms Chief of Staff and Director of Community Farms. "There is an amazing community here in New York City from Mayor Adams and his office to the NYC public schools program committed to making healthy positive changes and options for its students."
Photo: AeroFarms