Philips horti LED solutions and Stolze provide Bryte with full LED
Added on 21 September 2022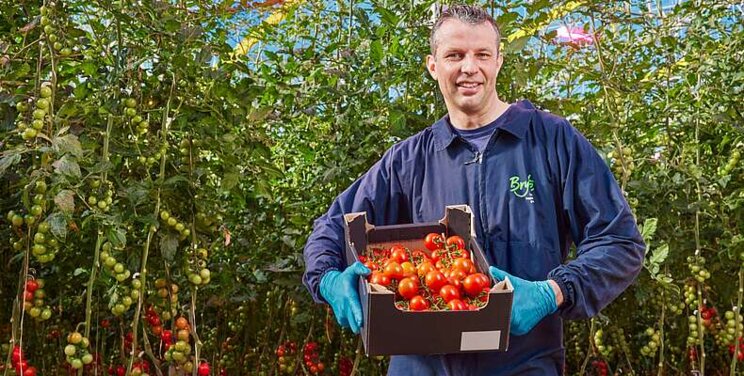 Philips horticulture LED solutions, the world leader in horticultural lighting, will help tomato grower Bryte, from 's-Gravenzande in the Netherlands, transition to full LED this summer. The company has been trialing LED for the last three years in a hybrid set-up, combining LED with HPS. The positive results provide enough encouragement to take the next step and transition fully to LED. For this, Bryte has chosen the Philips GreenPower LED toplighting compact, a sustainable solution with which the grower can generate 40% more light in the greenhouse while simultaneously saving 40% on energy
The current energy market has accelerated Bryte's transition to full LED. "HPS is just an expensive light that uses a great deal of power," says General Director and co-owner Tom Zwinkels. "LED is a lot more sustainable." Zwinkels is proud to be the first tomato grower in the Netherlands to switch to full LED by Philips.
Logical step in sustainability
Bryte has a total of 40 hectares of tomato cultivation, divided between seven locations. Sales go through the Growers United cooperative. Up to last winter, part of the acreage used lighting to supply customers with tomatoes year-round. "We've been doing that since 2003," Zwinkels says. "In 2019, we decided to become more sustainable on this level. Investing in LED was a logical step."
Bryte consciously chose a hybrid set-up in an 8.3-hectare greenhouse, using less energy for the same amount of light. "In the last three years we have gained experience and learnt about the differences between the kinds of lighting. Unlike HPS, LED does not give off any radiation heat, for example. Therefore, with the current high energy prices it's extra important to retain heat. That's why we invested in a second screen installation for the coming winter."
Separating light and heat
Erik Stappers, plant specialist at Signify, affirms that growing with LED requires different cultivation measures. "Unlike HPS, LED fixtures do not radiate any heat. Especially with full LED, investing in a second screen installation is a logical step to keep the heat inside the greenhouse. We've noticed that a lot of our customers are currently either making this investment or considering it, in order to optimize cultivation with LED. At the same time, using full LED also gives you a lot of flexibility as a grower. This is especially the case in the period of March-April when it gets warmer outside. LED barely radiates any heat, which means you don't have to reduce the light level."
After three years' experience using a combination of HPS and LED, Bryte is ready to take the next step. "Lighting isn't worthwhile at all with the current energy market", Zwinkels confesses. "Unfortunately, this means that we will be able to harvest less tomatoes coming winter. With the energy prices as they are, we will definitely not turn on all our lighting, but for the lighting which will be switched on, LED is the most efficient and sustainable way." By equipping the greenhouse with full LED, Bryte can produce more light and save energy. "When all the lights are on full, we will generate over 40% more light." Bryte has the option to adjust the light intensity in increments of 25%. "This is being driven by the energy market and the desires of our customers."
Insight into cost price and yield
With the current hybrid set-up, Bryte achieves a light level of 180 µmol per square meter. "The new situation, with full LED lighting, provides 260 µmol per square meter," says Stappers. "Not only does Bryte produce over 40% more light with the same input as Electra, it can also save as much as 40% on energy for the same amount of light. We always provide our customers with insight into the cost price and yield, including for questions such as 'what does the amount of light do for the yield?'. Together with the grower we're looking for the optimal balance between energy-input and production. And that differs for every business situation."
The Philips Greenpower LED toplighting compact which Bryte chose, fits into the existing electricity infrastructure. The color spectrum has also been taken into account, in order to achieve the optimal environment for the plant and for employees. Good working conditions and maintaining the tomatoes' flavor were important factors. Regarding the latter, research from Zwinkels shows that LED might have a positive effect. "It's important for us to maintain our production lines year-round and supply delicious tomatoes to our customers. We also see fellow growers within Growers United transition to LED. Until now, they have all been using hybrid solutions. Because of our experience we feel confident to take the step towards full LED. We are very proud that we're able to do this together with Philips horticulture LED solutions as our supplier and Stolze as our installation partner. We have been working with them for years. We trust these parties, now and in the long term."
Source: HortiBiz