Traditional & vertical farm to partner on the road to Net Zero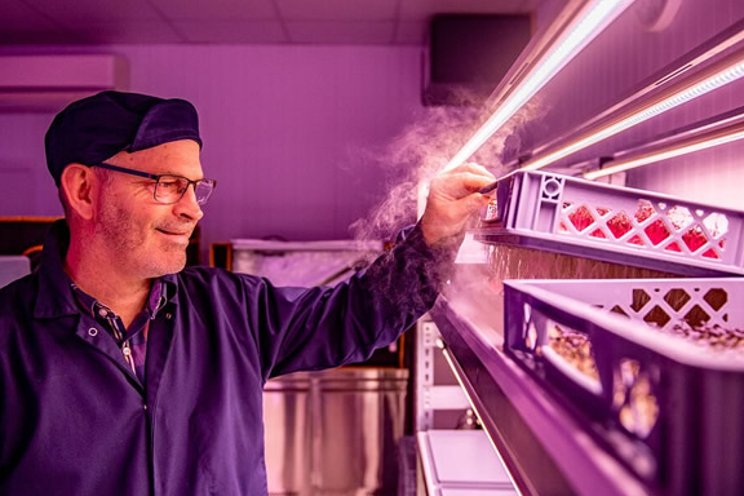 The collaborative project will allow a proportion of the horticultural produce to be grown vertically indoors, releasing land for rewilding, building biodiversity and carbon capture. One of these key projects includes rewetting land to return it to marshland, creating and improving wetland habitats for breeding wading birds.
The vertical container farms, provided by LettUs Grow, use aeroponic technology to increase the growth rate of plants, while significantly reducing the water and fertiliser usage. It will produce crops all year round and offer resilience against climatic changes.
This new addition to the farm is aimed at strengthening G H Dean & Co's operations, not replacing them. Micheal Bax, Chair of G H Dean & Co Ltd, said: "What we all have to remember about farming is that it takes place in the natural world. It's absolutely vital that we find the right balance between food production and conservation in the environment. The emphasis is now on environmental protection and the sustainability of agriculture."
The multiple systems (orchards, arable, livestock, stewardship, controlled environment, and renewable energy) on the farm will work together synergistically. G H Dean & Co's planned rain water harvesting systems will provide the water for the container farms. Ro-Gro will compost growing media and waste plant material for incorporation into the arable fields. Both farms will be powered by renewable energy. There are already enough solar panels on site to supply 40% of Ro-Gro's energy and plans are in place to increase this to 90%, with the addition of more solar panels and a battery system. The rest of the energy will come from a renewable energy tariff. The pair are currently working with a renewable energy company to further improve their green energy integration.
The produce grown and sold under the Ro-Gro brand will be distributed via electric vehicle into the local area. The locality of the produce is something that really matters to both Jason and his customers. Jason said: " For a few years I have been looking at different indoor growing systems to grow a wide range of great tasting local herbs and salads you can offer all year round. I am now confident of doing that using the technology within a DROP & GROW container farm. You never need to import anything. Whether it's going to retailers, restaurants or farmers markets; it's always local. It's always fresh."
Photo Courtesy of LettUsGROW via Agritech Tomorrow