RII announces addition to its Board of Directors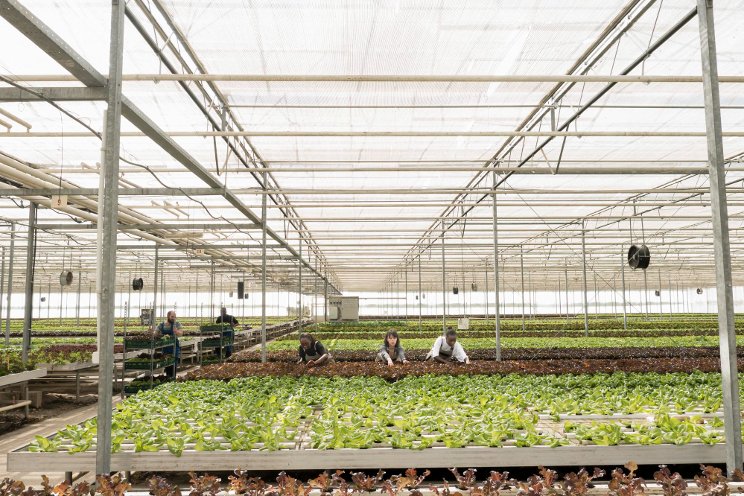 Resource Innovation Institute (RII), the leading not-for-profit energy and water benchmarking organization providing resource efficiency best practices for CEA producers, announced today the addition of six new members to its Board of Directors, each bringing a unique perspective and seasoned experience to help guide RII's research and programs.
"Each of our new board members is committed to RII's ideals of leveraging resources to support a broad range of producers and the design and construction community around them," said Derek Smith, Executive Director of Resource Innovation Institute. "Each will also be engaged in helping us roll out new USDA-invested services to the market, including efficiency credentialing and other initiatives. We are grateful to have them on the board and look forward to the great things we can offer the CEA community moving forward."
The six new board members include Ohio State University's Dr. Chieri Kubota, Priva strategic business developer Dr. Jan Westra, researcher Kimberley Player, strategic product management consultant Shanita Penny, Pennsylvania Department of Agriculture conservation and innovation director Mike Roth, and government affairs specialist Brian Herrington.
Dr. Chieri Kubota is a professor in the Department of Horticulture and Crop Science, and Director of the Ohio Controlled Environment Agriculture Center at Ohio State University. A Fellow of the American Society for Horticultural Science (ASHS), Dr. Kubota joined the faculty at the Ohio State University in 2017. She received her Ph.D. in Horticultural Engineering and M.S. in Horticultural Science from Chiba University, Japan and worked as faculty for 6 years in Chiba University, as well as 16 years in the School of Plant Sciences at University of Arizona. In research, Dr. Kubota has worked on issues in CEA crop production such as lighting technologies, water and nutrient management, and introducing new crops for CEA. Dr. Kubota is very active in training professionals through online courses, hands-on training, and consultations.
"I am looking forward to working with my fellow board members as RII expands its roster of efficiency programs and services for the growing CEA industry," Dr. Kubota said. "There continues to be a tremendous need for knowledge and information by CEA producers and the design and construction sector that support them. RII is providing a critical role that is complementary to the academic sector."
Dr. Jan Westra is a strategic business developer at Priva, which develops leading-edge technologies, services and knowledge for climate control and process automation in buildings and horticulture. He graduated M.Sc. at the TU Delft in 1985, Faculty of Mechanical Engineering, Department of Refrigeration and Indoor Climate Control (HVAC) and subsequently conducted PhD research at the same department, culminating in a thesis in 1990 on the topic: Development of an Advanced Absorption Heat Transformer. Following his departure from TU Delft, Dr. Westra worked for more than five years at an HVAC consultancy firm in Rotterdam. He joined the Priva company in 1996.
"In many respects, the future of agriculture is CEA," Dr. Westra said. "By providing the resources and knowledge to help CEA producers optimize their facilities, RII is helping to shape and secure that future. It is a privilege to work alongside their team to assist in those efforts."
Kimberley Player is the Director of Research at Equilibrium, an asset management firm that develops sustainable finance and active ESG strategies in food & agriculture and carbon transition infrastructure. Equilibrium has one of the largest portfolios of advanced technology indoor and greenhouse growing facilities in North America, which delivers a year-round supply of fresh produce to major retailers and food service firms across the US. Kimberley focuses on identifying and evaluating real asset investment strategies that support a "sustainability drives returns" philosophy. Her role includes assessing the economic, environmental, and social impact of these strategies, and their alignment with both global standards and Equilibrium's proprietary sustainability framework. Kimberley previously led Equilibrium's sustainability reporting initiatives, including the creation of this framework and she continues to advocate for the use of measurable outcomes to drive operational productivity.
"CEA facilities are a necessary tool in the building of a resilient food system and management of water, energy, and labor constraints," Player said. "Investors and operators need benchmarks to assess performance, and we value RII's efforts to standardize and aggregate information that highlights the impacts and potential of CEA as agriculture production infrastructure."
Shanita Penny is an internationally recognized strategy and management consultant with 20 years of experience helping Fortune 1000 companies and startups solve complex issues and improve business performance. Penny is currently a Senior Vice President with Forbes-Tate Partners, where she helps agricultural clients connect with federal resources, build brand awareness, and plan for the future. She earned a BS in transportation and logistics management from North Carolina Agricultural and Technical State University and an MBA from the University of Baltimore and Towson University.
"I am honored to be on this board and working with the RII team," Penny said. "It is exciting to help shape the workforce development potential for modern agriculture. This is important work and an incredible opportunity to ensure equitable outcomes as the industry scales. I am grateful to be a part of it."
Mike Roth serves as the Director of Conservation and Innovation at the Pennsylvania Department of Agriculture. A Pittsburgh native, Roth acquired his BA in Environmental Studies from Washington and Jefferson College and a Masters in Public Administration from the University of Pittsburgh. Roth started at the Department of Agriculture in 2019 as a William Penn Fellow where his work focused on climate change, industrial hemp and food security.
"Pennsylvania is a leader in CEA, which helps supply the state's need for fresh, local produce while diversifying our agriculture industry," Roth said. "I have been gratified to work with Pennsylvania's CEA community and I look forward to working with RII to help further the important work of building a stronger CEA industry."
Brian Herrington possesses 21 years of experience in local, state, and federal government affairs work. As Vice President External Affairs & Foundation President at The Scotts Miracle-Gro Company, Brian works to develop programs that improve our communities, builds legislative and policy solutions, develops stakeholder relationships, and creates employee engagement in the political process.

"CEA is a new and dynamic sector full of potential. It needs to be studied and supported, and that is why the work of RII is so critical," Herrington said. "Ultimately, we need data, standards, and leadership recognition systems to drive good policy and smart public-private partnership to solve the energy and water challenges we face."
About Resource Innovation Institute: Resilient harvests for the next hundred years
Resource Innovation Institute is an objective, data-driven non-profit organization whose mission is to measure, verify and celebrate the world's most efficient agricultural ideas. We cultivate a better future for all of humanity with our vision of resilient harvests for the next hundred years. Our consortium of members brings perspectives from across the field—uniting architects and engineers, growers and operators, researchers and analysts. Founded in 2016 to advise governments, utilities and industry leaders on the resource impacts of indoor cultivation, an under-studied and resource-intensive market, we have since extended our research to other sectors in partnership with the United States Department of Agriculture. To take on the challenges of our changing world, we believe that food, medicine and other vital crops demand data-driven insights, securely shared with integrity. By nurturing the human connections in our complex and dynamic industry, we can build deeply restorative systems for people and the planet. Visit our website at ResourceInnovation.org. Follow us on LinkedIn, Facebook, Twitter and Instagram.
Image by DCStudio on Freepik