Mixing solar power and agriculture: A blueberry farm does a test run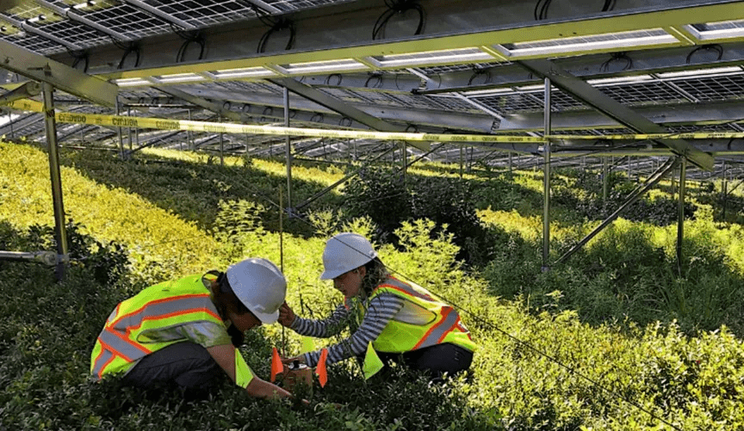 Maine's wild blueberries are a unique crop that can't be planted from seed, explains lifelong blueberry farmer Paul Sweetland. They must be gently cultivated where the low-lying bushes grow naturally, and the small, sweet berries are sold in the local area, too delicate to easily transport far.
But blueberry land and other parcels of rural Maine are being increasingly eyed for housing development, and Sweetland feels the wild blueberry sector is under pressure, especially when blueberry market prices drop.
He hopes that a new "crop" growing in tandem with berries could help boost the local industry and preserve farmland. That would be solar panels that have been installed across 11 acres of the land where Sweetland farms blueberries in Rockport, Maine.
The University of Maine is studying this example of dual-use agrivoltaics. The solar installation was developed by the Boston-based solar developer BlueWave, and it is owned by the company Navisun, which makes lease payments to the landowner. Sweetland tends, harvests and sells the blueberries, and shares profits with the landowner.
Across the country, farmers regularly lease their land for utility-scale or community solar installations, but typically crops are not grown on that same land. With dual-use agrivoltaics, crops are grown under or between the rows of solar panels, with the aim of generating renewable energy without removing farmland from production.
Farmers or landowners can collect incentives for solar energy, and some states including Virginia, New York, New Jersey and Massachusetts have or are considering incentives specifically for agrivoltaics. Agrivoltaics work best with crops that don't grow too high, that are picked by hand, and that benefit from the shade the panels provide.
Photo: Members of the University of Maine team at the solar-blueberry research site. Credit: UMaine Extension.