Market transformation strategy for energy-efficient CEA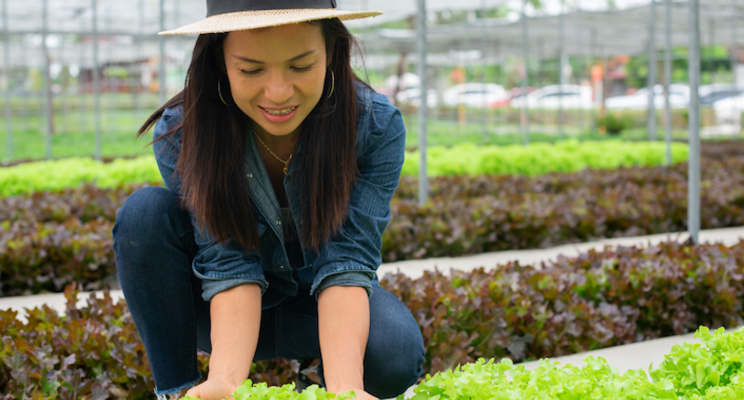 RII, ACEEE, and the United States Department of Agriculture Natural Resource Conservation Service (NRCS) will unveil their Market Transformation Strategy for the controlled environment agriculture (CEA) industry during a live national webinar on January 25, 2022, at 1 pm ET. During this event, RII will outline its NRCS-funded project, Data-Driven Market Transformation for Efficient, Sustainable CEA. Register for the webinar to view it live or on-demand and access other CEA industry curriculum and training at catalog.resourceinnovation.org.
RII Executive Director Derek Smith, Technical Director Gretchen Schimelpfenig, and University of Vermont Extension Associate Professor of Agricultural Engineering Chris Callahan will outline how the initiative will transform the market for producers with three intervention strategies: coordinated producer support systems and industry standards developed collaboratively with key market actors like policymakers and efficiency programs, rigorous benchmarking of CEA operations, and promotion of industry best practices. RII will announce how the strategies will be targeted towards producers effectively based on cultivation approach, crop type, location and climate, power supply costs, and size of operation.


Data on the energy performance of CEA facilities are limited and often based on models from a small number of producers or crop types. More benchmarking will enable more accurate and useful data. With RII's PowerScore platform, CEA producers benchmark the resource efficiency and productivity of greenhouse and indoor facilities growing diverse crops, allowing businesses to understand competitive performance and achieve resilient operations. Standardized key performance indicators (KPIs) for energy, water, and emissions like solid waste and greenhouse gases provide governments and utilities and efficiency programs with the baselines they need to recognize environmental excellence.
To promote efficiency benefits in ways that are compelling to producers, RII is releasing a series of peer-reviewed CEA best practices guides to offer producers and their project teams ways to optimize facility efficiency while achieving increased productivity and desired quality. These resources will cover topics:
Facility Design & Construction
LED Lighting
High-Performance HVAC
Automation & Controls
Irrigation & Water Reuse

With its CEA Leadership Committee, Technical Advisory Council Working Groups, and collaborative engagement with other industry organizations, RII will continue to leverage key market actors to develop coordinated support systems to help producers overcome hurdles such as upfront costs via robust assistance from efficiency programs and informed policies from governments.


"Market transformation is a common and effective approach across a range of economic sectors for accelerating adoption of efficient practices," said RII Executive Director Derek Smith. "We're thrilled to partner with USDA and ACEEE to bring this proven method to CEA in a way that centers producer success."
To schedule an interview or request press credentials, please contact Shawna Seldon McGregor at shawna@themaverickpr.com or 917-971-7852.
About Resource Innovation Institute: Resilient harvests for the next hundred years
Resource Innovation Institute is an objective, data-driven non-profit organization whose mission is to measure, verify and celebrate the world's most efficient agricultural ideas. We cultivate a better future for all of humanity with our vision of resilient harvests for the next hundred years. Our consortium of members brings perspectives from across the field—uniting architects and engineers, growers and operators, researchers and analysts. Founded in 2016 to advise governments, utilities and industry leaders on the resource impacts of indoor cultivation, an under-studied and resource-intensive market, we have since extended our research to other sectors in partnership with the US Department of Agriculture. To take on the challenges of our changing world, we believe that food, medicine and other vital crops demand data-driven insights, securely shared with integrity. By nurturing the human connections in our complex and dynamic industry, we can build deeply restorative systems for people and the planet. Visit our website at ResourceInnovation.org. Follow us on LinkedIn, Facebook, Twitter and Instagram.
Photo created by jcomp - www.freepik.com
Source: HortiBiz