Japan wins AIPH Prize as Expo 2022 Floriade closes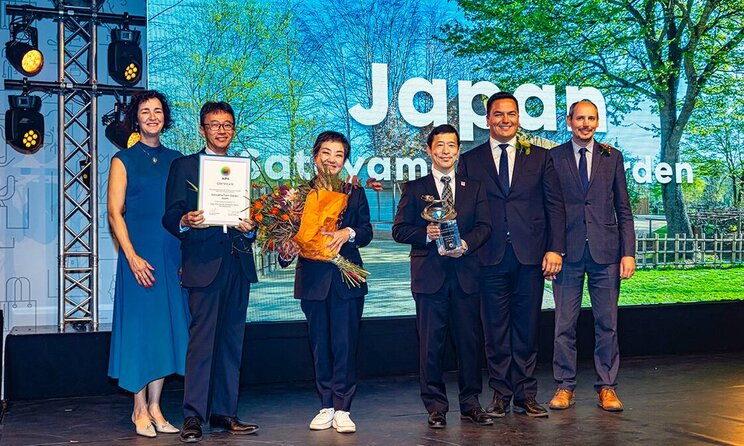 The Expo park spans 60-hectare (150 acres), welcomed 685,189 visitors and 32 international country and business participants, and hosted 1,500 business events and 37 horticultural product competitions since its official opening on 13 April 2022.
The Expo park is in the middle of Almere city, in the Flevoland Polder, on a site uniquely called the "Green Heart", a large green and natural area within the Randstad circle. You can read more in an AIPH Green City case study. The land here is part of a reclamation project from Lake IJssel to supply housing for the urban expansion of Amsterdam and the Randstad area in the 1970s.
Expo 2022 Floriade sought to share horticultural wisdom on the importance of healthy living and working environments in cities for the future and to spread horticultural knowledge worldwide.
One of the main features of the Floriade was the Green City Arboretum, planned by famous Dutch architect Winy Maas into an 800 by 800 metres square grid and placed on top of existing features such as woodland, water, an island, and the highway.
Famed landscape designer Niek Roozen from the Netherlands put his signature upon a bold planting scheme here, with a botanical collection containing 3,000 trees, 90,000 shrubs and 200,000 perennials planted alphabetically. These will remain the Expo 2022 Floriade's legacy as part of the urban district 'Hortus', which will provide homes for a predicted increase in population from 215,000 to 300,000 in ten years.
During the closing ceremony Hans Bakker, CEO of Floriade, reiterated the Expo's commitment to encouraging green development and stressed the need to create greener and better lives for people.
The Expo's theme, 'Growing Green Cities,' embodied the importance of this theme in the pavilions created by international participants, which were celebrated in the Awards Ceremony held just before the Closing Ceremony.
Photo Courtesy of AIPH