FRUIT LOGISTICA 2023 prepares to overcome global challenges
Added on 21 September 2022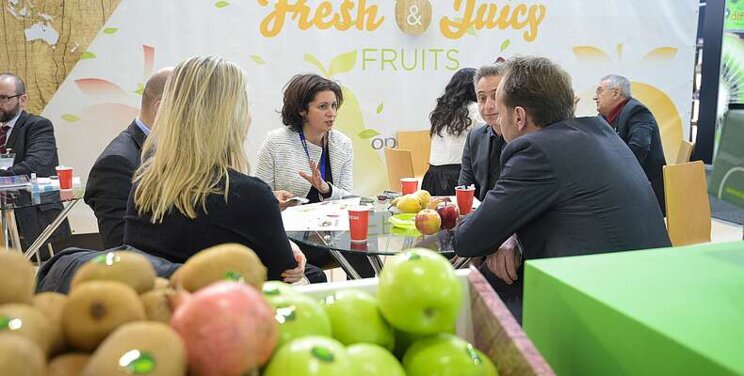 Spend better, save more. For exhibitors at FRUIT LOGISTICA 2023, it's an essential mantra in the face of a global cost crisis that challenges everyone in the fruit and vegetable business.
Innovative companies from across the world - and from all parts of the value chain - are ready to share their solutions to those challenges at the leading trade show for the global fresh produce business, which takes place in Berlin from 8 to 10 February 2023.
That's why FRUIT LOGISTICA's own motto this time is "All in One". And, at a time when efficiency is even more essential, the opportunity to reach the largest possible audience in a single location is all the more valuable.
FRUIT LOGISTICA director Kai Mangelberger says demand for exhibition space at next year's event is strong. "Exhibitors have already booked 25 percent more space than they did for the 2022 event, which shows that FRUIT LOGISTICA is not only the place to learn about new, cost-conscious innovations, but also to present them to the rest of the industry. In Berlin, exhibitors can reach as many people as possible and the right people in one place."
For many in the business, water and energy supplies are under intense pressure. And the costs of those inputs, as well as vital services like logistics and packaging, have increased dramatically over the past few months. But exhibitors at FRUIT LOGISTICA 2023 have answers to those challenges.
Take Mavuno Technologies, which will make its FRUIT LOGISTICA debut. The German startup is on a mission to help cashew farmers in Tanzania to increase their yields. It gives them access to affordable organic crop protection, as well as a dependable crop forecast system that incorporates satellite imagery and machine learning technology. Those innovations make their commercial model more sustainable and less susceptible to poor conditions.
Many of FRUIT LOGISTICA's exhibitors will also use the event to show how they have reduced not only their costs but also their impact on the environment. "Thanks to the agronomic practices we promote, our fruit is produced using 55 per cent less water than traditional irrigation techniques," says Rita Biserni, marketing manager at leading Italian cooperative Alegra, which returns to the event in February 2023.
Now is the last chance to register as an exhibitor for FRUIT LOGISTICA.
The stand registration forms are available here.
About FRUIT LOGISTICA
FRUIT LOGISTICA is the leading trade show for the global fresh produce business, and represents the entire value added chain for the fresh produce industry from producer to point of sale. More than 3,300 exhibitors from 91 countries presented their products, services and technical solutions at FRUIT LOGISTICA 2020. Around 73,000 vendors and trade visitors from 135 countries took part in the event. The next FRUIT LOGISTICA will be held in Berlin from 8 to 10 February 2023.
About Messe Berlin
Berlin has been a trade fair destination for 200 years, and has been one of the most important such hubs for many decades. Messe Berlin - the state's own trade fair company - conceives, markets and organises hundreds of live events every year. It strives to be an outstanding host for visitors at all events, generate optimal business stimuli, and provide fair conditions for everyone. This concept is reflected in the company slogan: Messe Berlin - Hosting the World.
Source: HortiBiz