First Dutch collaborations with Indian partners
Added on 05 December 2022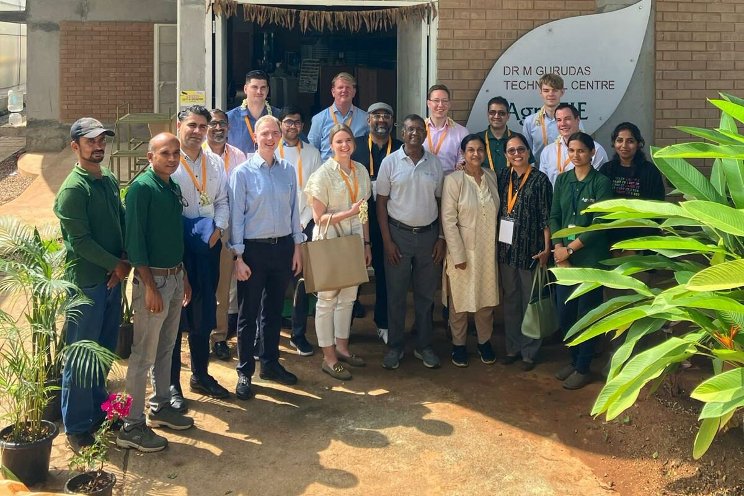 Food production in India is changing
The mission was organized by Dutch Greenhouse Delta, the Consulate-General of the Kingdom of the Netherlands in Bengaluru, InnovationQuarter, Rotterdam Partners, and the Dutch Embassy in New Delhi. Desh Ramnath, Business Advisor of Dutch Greenhouse Delta: ''We visited India with a cluster of Dutch turnkey suppliers and specialist companies covering the entire fruit and vegetable supply chain. We were able to see that food production in India is changing and that Dutch knowledge and integrated solutions can support India in growing safe and healthy fruits and vegetables with less use of resources."
Many Indian stakeholders in the knowledge session
One of the highlights of the mission was the knowledge session that was hosted prior to one of the matchmaking sessions. ''It was encouraging to see that so many Indian stakeholders attended this session which provided them with valuable know-how of Dutch technology and, simultaneously, provided us with the opportunity to get our message across and to present ourselves in the best possible way'', according to Carine Eijkelkamp of InnovationQuarter and Rotterdam Partners.
Connecting with the right partners
The mission provided plenty of networking and matchmaking opportunities. Hidde Huisintveld, International Account Manager at Lumiforte, was one of the delegates. He reflects on the mission: ''The Indian market is a huge market with a lot of opportunities. There's a world to win for Dutch companies.'' Aadesh Shah, Development Engineer of Viscon Group adds: ''The mission provided a very good perspective on the opportunities in the Indian market. The coordinating organizations did great job in connecting us with the right partners.'' Our visit already led to the development of initial proposals for projects in India.
This mission was one of the first activities of the multi-year public-private program PIB NLHortiRoad2India. In the coming years, inbound and outbound missions to India will follow, which will help strengthen the understanding of the Indian fresh food sector.
Participating organizations
The following organizations participate in this promising mission: Bayer- de Ruiter Seeds, Hoogendoorn Growth Management, Horti XS, Lumiforte, Koppert, Meteor Systems, Priva, van der Hoeven Horticultural Projects and Viscon.
Source and Photo Courtesy of Dutch Greenhouse Delta