New community farms to provide fresh food access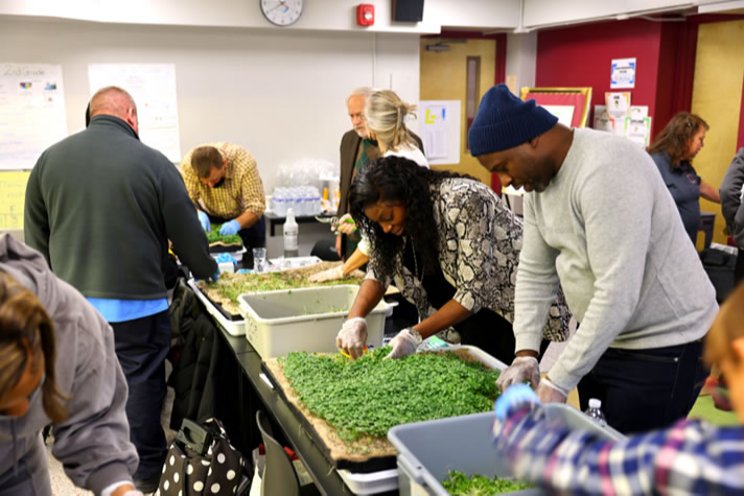 The AeroFarms Community Farm uses patented and proprietary aeroponic technology to bring the benefits of vertical farming directly to the community. The custom-built system empowers children and adults to participate in the full growing process from seed to salad, while experiencing the advantages of hyperlocal, sustainable food production and learning through science, technology, engineering, arts, and mathematics (STEAM) education. Along with the farm system, AeroFarms also provides a robust service package to Community Farm customers, which includes growing inputs like seeds and nutrients and support hours from AeroFarms' expert team of scientists and specialists.
"Following COP27 [the 27th Conference of the Parties to the United Nations Framework Convention on Climate Change] in November, the need for innovative solutions to address challenges to our climate and global food system is abundantly clear," said David Rosenberg, Co-Founder and CEO of AeroFarms. "AeroFarms is committed to furthering its mission to grow the best plants possible for the betterment of humanity and empowering the next generation of scientists and innovators. Our Community Farm offering helps us achieve this mission, while also encouraging healthy eating habits and providing food access for underserved areas."
From its large commercial farms in Newark, New Jersey, and Danville, Virginia, AeroFarms leads the way with smart, indoor vertical farming and services major retailers including Whole Foods Market, Walmart, The Fresh Market, and Ahold Delhaize, as well as food service partners like Baldor and Compass Group. AeroFarms leafy greens and microgreens are safe, nutritious, and flavorful and are grown using zero pesticides and up to 95% less water compared to a traditional field farm. As with its large commercial farms, AeroFarms' Community Farm system uses less resources to grow a higher output of leafy greens in a faster time frame, elevating agriculture for people and planet.
Building on these benefits, this month AeroFarms expanded its Community Farm program to key strategic partners in the greater Newark / New York City area. This expands on AeroFarms' early work with Philip's Academy Charter School (PACS), located in downtown Newark. AeroFarms started a partnership with PACS in 2011, where it installed a farm in the cafeteria to be used for STEAM education and supplement the school's food service offering. In 2016, Former First Lady Michelle Obama visited the PACS farm as part of a national tour to promote health and wellbeing.
This month, in partnership with the Newark Public Schools (NPS), AeroFarms completed installations throughout the Newark Public School district, including at Central High School, George Washington Carver Elementary School, Sir Isaac Newton Elementary School, Thirteenth Avenue School, and Michelle Obama Elementary School. This program is part of the district's plans to advance science, technology, engineering, arts, and mathematics (STEAM) education for students in the District.
Photo Courtesy of AeroFarms