The new pot carnation Viva Magenta from Dümmen Orange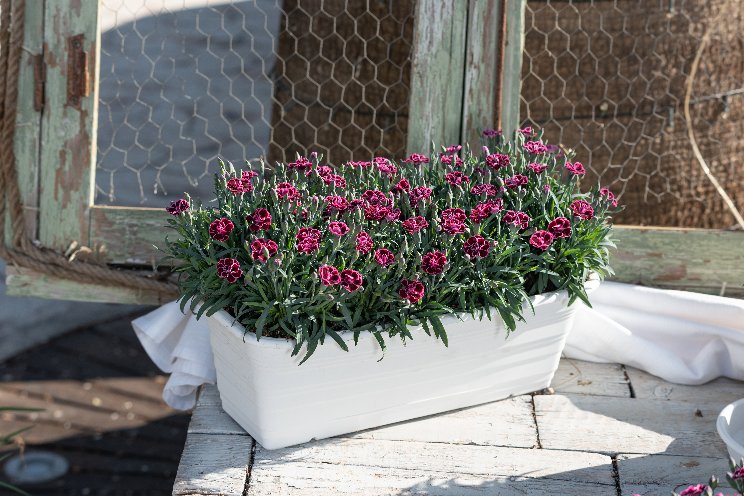 Breathtakingly simple
"Simple to produce and easy to handle" – that's how they sum up this plant's cultivation characteristics in just a few words. The upright growing Viva Magenta is naturally very compact, so it needs no PRGs in cultivation. Production in 10.5 or 12 cm pots is recommended.
This resilient variety flowers early and offers high uniformity, making it particularly attractive for profitable commercial cultivation. With its robustness and ability to adapt to all weather conditions, it's also a winner on the sales floor and in the consumer's garden.
Rapid and abundant flowering
Growers will love this plant's winning combination of rapid and abundant flowering. This makes it perfect for early sales, creating that sought-after competitive edge and making it hugely attractive for retailers.
At the POS, the small, bright magenta flowers immediately catch the eye. And it's with the consumer that Viva Magenta really comes into its own: besides its robust, compact habit, it blooms profusely with a reliable color behavior right through the season.
Pot carnation in trendy color
The new Viva Magenta pot carnation makes its début in a color that is fun and right on trend. The deep magenta of the individual blooms radiates a vibrancy that is playfully enhanced by a pale border around the outside of the petals – making this new variety a true multitalent wherever it is used.
With its strong color impact, it will get the attention it deserves in the consumer's garden both as a stand-alone plant and in groups or mixed plantings.
Compellingly simple and promising
There are plenty of reasons to get your own impression of the passionate, warm vitality of the new Viva Magenta variety and to convince yourself of its promising characteristics!
Dümmen Orange
Dümmen Orange is the world's largest breeder and young plant producer of cut flowers, bulbs, tropical plants, pot plants, bedding plants and perennials. Its annual turnover is approximately €390m. The company employs over 7,500 people worldwide. In addition to a large marketing and sales network, Dümmen Orange has a diversified network of specialized production sites. The key to the success of Dümmen Orange is a broad and deep product range, supported by a global supply chain. The company embraces its social responsibilities and invests in the health, safety and personal development of its staff.
Photo Caption: Right on trend: the magenta flowers of the new pot carnation Viva Magenta are just one stand-out feature of many in this new variety from Dümmen Orange. It has lots of other appealing benefits for producers, including ease of cultivation and early sales (photo: Dümmen Orange).