More than 120 novelties at Dummen Orange's show gardens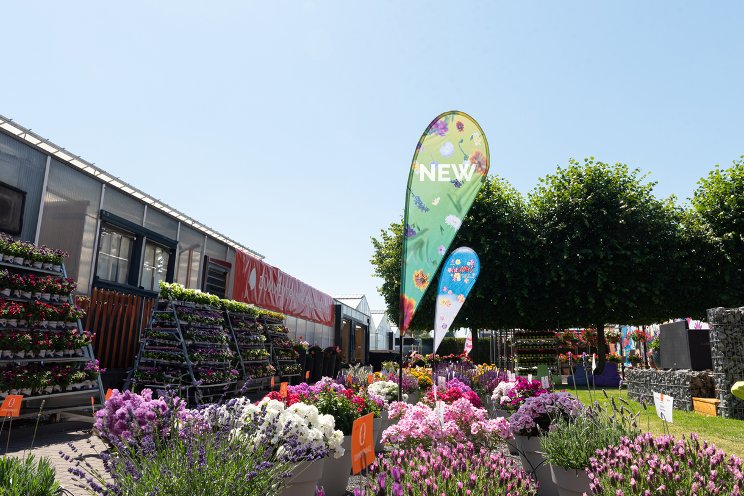 Trend Center Rheinberg
The 500 m² Trend Center in Rheinberg becomes a sports arena, with a tartan track and eight concept brands representing different disciplines. The successful Confetti Garden concept and the breeding successes of Dümmen Orange's Intrinsa technology are just two of them. Gardening is an extremely popular hobby and demonstrably even suitable as a 'sports substitute', not only since Covid. Depending on the intensity of the work, gardeners can burn between 200 and 400 additional calories per hour in the garden. During the FlowerTrials® in Rheinberg, a boxing machine invites you to take part in some exercise.
Trend presentations De Kwakel
The idea behind Dümmen Orange's trend presentations in De Kwakel is to give visitors a preview of the latest market trends, and how to fulfill the different end-consumer needs with Dümmen Orange's products. Consumer tastes are becoming increasingly sophisticated as they search specifically for sustainable, easy to care for, unusual or bee-friendly plants. Their approach is very personal, with everyone wanting plants that suit their particular lifestyle. Dümmen Orange has created trend presentations for the four key target groups to show how its products can address their specific needs.

Around 120 novelties for the coming season can be seen at both locations. The most important ones are:
Fuchsia Ballerina® series
Dümmen Orange's new Ballerina® series is ready to make a big entrance. Selected for day-neutral flowering, this new Fuchsia hybrid series is perfect for early production and sales. It is early to medium-early with medium sized flowers and a well-branching, compact habit. The plants require very little PGRs and can be grown in 9-13 cm pots. Ballerina® varieties leave nothing to be desired: they come in semi-trailing, semi-upright and upright forms with single and double flowers in bright colors ranging from red and white to red or pink and purple. Ideal for combination plantings, they also boast pollinator-friendly flowers – a natural talent in all respects! During the FlowerTrials® in Rheinberg, a graceful ballerina as a selfie partner will help visitors to create an elegant memory of their visit.
Pot Carnation Strawberry Eyes
Strawberry Eyes is a truly eye-catching pot carnation. The flower markings in unusual colors are a highlight of the Dianthus range and appeal to consumers looking for something special. Growers will surely appreciate their excellent properties: easy to cultivate and highly resilient, the plants can cope with all climate conditions and can be produced in a range of pot sizes. This upright variety also has an outstanding growth habit and needs no PRGs. Strawberry Eyes produces a profusion of fragrant flowers over a long period. Growers will love their extreme earliness, while their reliable color behavior and good shelf life will appeal to retailers and consumers alike.
Viva Magenta
Simply trendy: the new pot carnation Viva Magenta with blooms in extravagant shades of pink and outstanding cultivation traits. Simple to produce and easy to handle – that's how Dümmen Orange sums up this plant's cultivation characteristics in just a few words. The upright growing Viva Magenta is naturally very compact, so it needs no PRGs in cultivation. Production in 10.5 or 12 cm pots is recommended. This resilient variety flowers early and offers high uniformity, making it particularly attractive for profitable commercial cultivation. With its robustness and ability to adapt to all weather conditions, it's also a winner on the sales floor and in the consumer's garden.
Dahlia Summer Bees series
The new Dahlia Summer Bees series heralds in summer – a reliable crop with great sales potential, a product with plenty of ornamental value and a rich source of food for pollinators from summer through to autumn. The two varieties 'Summer Bees Purple Bicolor' and 'Summer Bees Red Bicolor' have a strong and well-branched upright growth habit and many individual flowers in varied purple and red, each with a decorative yellow center. The series is ideal for growing in 15-19 cm pots or in larger containers with three cuttings. Pot up deeply for stable plants. The cultivation period from rooted plug to flowering is 8-9 weeks. Irrigate regularly during cultivation. Dahlia Summer Bees is suitable for sale as a pot or bedding plant.
Coleus Downtown
The new Downtown series with its bicolor foliage adds a bold new look to the Coleus range. The series consists of eight upright varieties with special small, two-tone leaf types. The short cultivation period of 6-8 weeks from rooted cutting to finished plant and its very strong branching habit make Downtown an easy and reliable product to grow. The series is ideal for production in 10-13 cm pots and in larger containers with three cuttings. In short: a perfect Coleus series with an excellent shelf life for different market segments and a long sales period – both as a container or bedding plant for outdoors and as a pot plant for indoors.
About Dümmen Orange
Dümmen Orange is a global leader in breeding and propagation of cut flowers, pot plants, bedding plants, perennials, tropical plants and bulbs. Its annual turnover is about 390 million euro. The company employs 7.500 people worldwide. In addition to a large marketing and sales network, Dümmen Orange has a diversified network of specialized production sites and a world class R&D team developing innovative, value-added products for customers. Researchers and breeders collaborate to improve crop characteristics, like flower colour, fragrance and growth habit, but also less visible traits such as disease resistance, yield performance and vase or shelf life. Dümmen Orange develops products for a wide range of categories in the floriculture business and has an impressive variety portfolio.