Growing chrysanthemums with less electricity and less heat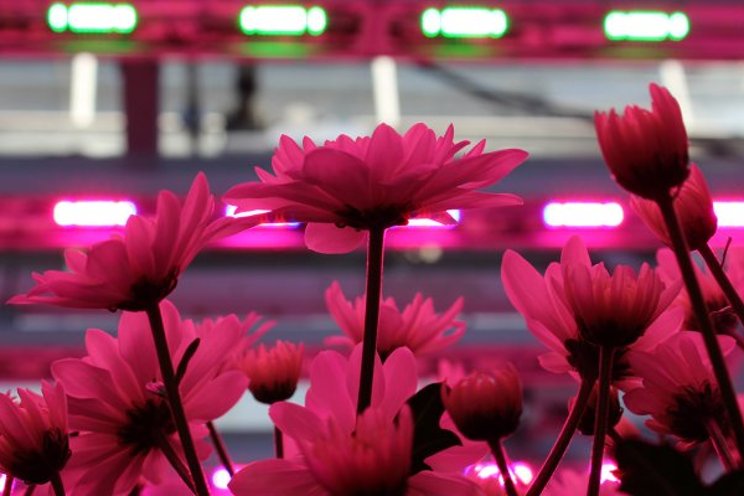 In addition, LEDs can emit the light spectrum that is most suitable for the crop, variety and crop stage and they can be switched on and off and dimmed quickly. The transition to LED lighting in chrysanthemum is progressing quickly.
Since the autumn of 2021, the prices of electricity and gas have risen sharply, which has further reinforced the urgency of reducing energy consumption for the sector. To enable profitable chrysanthemum cultivation, energy consumption for lighting and heating will have to be reduced. In the project "LED light supplementing sunlight", we investigated how chrysanthemums can be grown at lower temperatures and lower light levels, and how this can be supported by other measures (e.g. plant density and length of the long day period) to maintain flower quality.
Chrysanthemum cultivars Baltica and Pina colada were grown in two airconditioned greenhouse compartments at two temperatures ("normal" and "low" temperatures of 18.5/18 °C and 17.5/16.5 °C (day/night) respectively) and three light levels ("low" , "middle" and "high" light with light sums of 6.0, 7.5 and 9.1 mol/m2/day). The plant densities and the long day period were adjusted to the light levels. Plant densities for the low, medium and high light treatment were 40, 48 and 56 plants/m2 and the long day period was extended by 1 and 3 days in medium and low light compared to high light. During cultivation, plant length was monitored. Th plant's resistance to Botrytis and thrips was determined via bioassays. At the end of the cultivation, the reaction time was assessed and plants were harvested destructively, determining stem quality, number of flowers and plant weight per stem and per m2.
Photo: WUR