The extensive portfolio of Dümmen Orange at FlowerTrials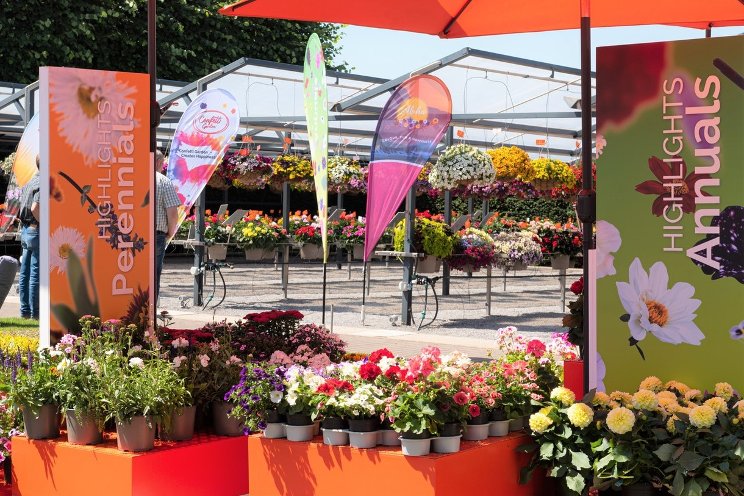 In Rheinberg, guests can view around 550 varieties on an area of 1200 m2. Throughout the summer, Dümmen Orange's entire range of Bedding Plants and Perennials is exhibited in close to 200 hanging baskets and 440 big pots under garden conditions. On another 500 m2 of indoor exhibition space – the Trend Center – a wide variety of sales concepts and presentation ideas will be presented.

In addition to product displays in containers and hanging baskets, various planting options will be shown. Throughout the site in Rheinberg there are arrangements in pyramids, window boxes, hanging baskets, pots, containers and even vertical plant walls. Here, visitors can find out more about the suitability of different varieties.

In De Kwakel, over 250 varieties from the Bedding and Perennial assortment are on display in containers and baskets. There is a walkable garden with 170 m² of beds filled with Annuals and Callas, and another 240 m² filled with Perennials. Visitors can also see the highlights from Dümmen Orange's Kalanchoe and Cut Flower assortment.

While visiting the indoor presentation space in De Kwakel, guests will be inspired by trend presentations based on profiles of consumer target groups in a variety of flower and plant segments: Individualists, Nature Lovers, Traditionalists and Minimalists. Visitors can learn how Dümmen Orange's products can address the needs of each and every target group.

FlowerTrials® at Dümmen Orange will take place from 13 to 16 June. In the months thereafter, the show garden in Rheinberg can be visited after registration via a Dümmen Orange Sales representative.
About Dümmen Orange
Dümmen Orange is a global leader in breeding and propagation of cut flowers, pot plants, bedding plants, perennials, tropical plants and bulbs. Its annual turnover is about 390 million euro. The company employs 7.500 people worldwide. In addition to a large marketing and sales network, Dümmen Orange has a diversified network of specialized production sites and a world class R&D team developing innovative, value-added products for customers. Researchers and breeders collaborate to improve crop characteristics, like flower colour, fragrance and growth habit, but also less visible traits such as disease resistance, yield performance and vase or shelf life. Dümmen Orange develops products for a wide range of categories in the floriculture business and has an impressive variety portfolio.