Domino effect on efficiency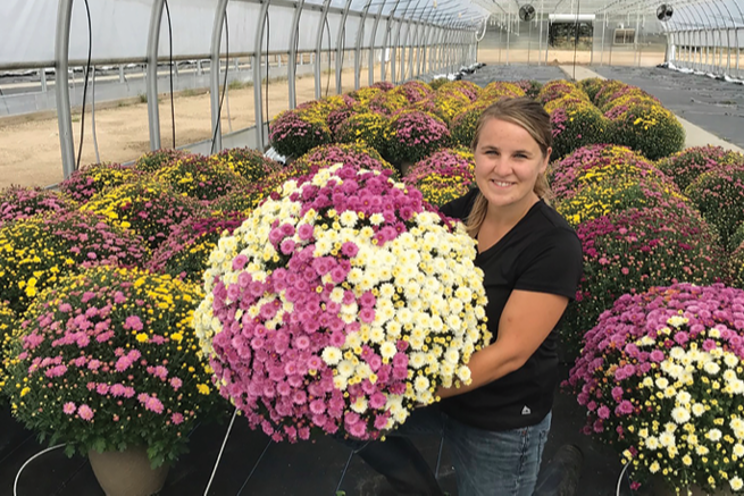 Since Candice Abseliamov joined Bergen's Greenhouses in 2010, the facility has grown from less than 10 acres to 24. Along the way, Abseliamov helped implement new programs and beneficial changes to grow more efficiently. As she's learned, when managing all the moving parts involved in greenhouse growing, little improvements can add up over time.
Abseliamov joined Bergen's as a grower assistant 10 days after graduating from Central Lakes College with a degree in horticulture, greenhouse production and floral design. Two days later, the head grower had a baby, and Abseliamov suddenly became a section grower tending five acres of greenhouses. In 2013, she moved into her current role as head grower/greenhouse manager.
"My main focus is to improve the efficiency, safety and cost of everything we do in the greenhouse," she says. "A lot of small things can make a big difference, from hoses down to the breakers and shutoff valves we use. Those little things make a big impact."
Managing seasonal labor
Bergen's Greenhouses operates three facilities in Minnesota — Detroit Lakes is responsible for plug production, Forest Lake is focused on annuals, and at Park Rapids, Abseliamov grows perennials, spring annuals and fall mums for clients like Sam's Club, Walmart, Lowe's and Aldi.
At the Park Rapids facility, Abseliamov oversees 24 acres of greenhouses, which Bergen's expands almost every year. While the company employs a small team of five to seven year-round staff, most of Abseliamov's growing support consists of seasonal help from up to 10 exchange students in the J-1 visa program.
Photo: Starting at Bergen's as a grower assistant, Candice Abseliamov is now the head grower/greenhouse manager. Photos courtesy of Bergen's greenhouses