New Dahlia Summer Bees series promises a long summer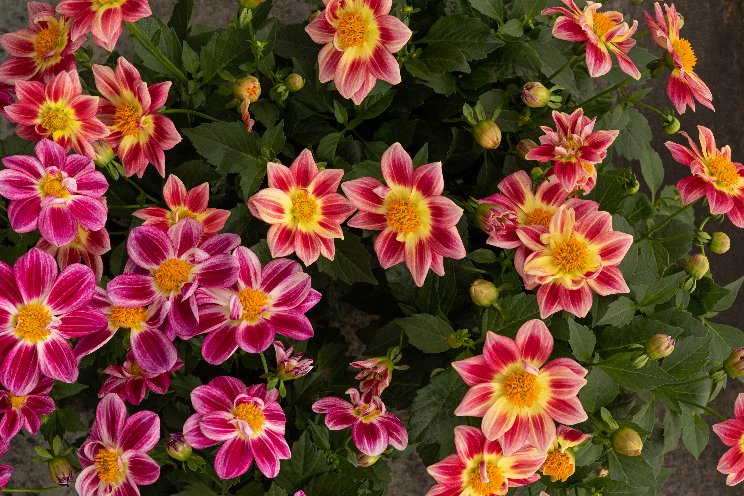 Attractive from start to finish

Versatile from the start
The new Dahlia Summer Bees series is lush but light and airy, featuring beautiful, large, two-tone single flowers. The Purple Bicolor variety comes in purple nuances with a bright yellow center, while Red Bicolor features vivid red petals and a yellow center.
Both varieties are eminently suitable for use as pot plants on the patio, terrace or balcony and as bedding plants in the border. The series therefore has masses of potential right from the start, both in production and sales.

Reliable to produce
Summer Bees Dahlias are very easy and reliable to produce. At Dümmen Orange we recommend growing them in 15-19 cm pots or using three cuttings when producing in larger containers. Pot up deeper for more stable plants. They do not need to be pinched when grown outside (container field), but in protected cultivation they should be pinched around 7-10 days after potting.
Production from rooted plug to flowering takes about 8-9 weeks. Keep the plants sufficiently watered. Unrooted cuttings are available from week 51 to week 18, and rooted cuttings as plugs from week 49 to week 22.

Very strong branching
The new Dahlia series has a naturally vigorous and well-branched upright habit. The strong branching ensures an abundance of single flowers, making the plants look particularly attractive. Their high decorative value makes them perfect for combining with other annuals, but they really come into their own as single plants in a planter.

Attractive to pollinators
The profuse flush of flowers on the two Summer Bees varieties doesn't just attract customers at the POS. The large numbers of single flowers are also very attractive to bees, and their nectar offers a rich, vital food source for many pollinators. With flowers appearing from May right through to September, these new Dahlia varieties provide a good supply of pollen right into the autumn – yet another convincing selling point.

Perfect addition to the range
In Summer Bees, Dümmen Orange is adding yet another top series to its potted Dahlia range. The combination of high decorative value and pollinator-friendliness creates sales benefits for producer and retailer alike. Consumers will be delighted by the long profusion of brightly colored flowers that lasts well beyond the summer. A true win-win for everyone!
DÜMMEN ORANGE
Dümmen Orange is a global leader in the breeding and propagation of cut flowers, pot plants, bedding plants, perennials, tropical plants, bulbs and tubers. Its annual turnover is about 390 million euro. The company has its headquarters in De Lier (the Netherlands) and employs 7.500 people worldwide. The key to Dümmen Orange's success is a world class R&D team developing innovative, value-added products for customers, as well as a diversified network of specialized production sites, and a broad and deep product range, supported by a global supply chain. For more information, visit emea.dummenorange.com.
Photo: The new Dahlia Summer Bees series from Dümmen Orange impresses at all levels – not least with its reliable production and great decorative value. With great sales potential both as a pot and bedding plant, this large-bloomed series has a long flowering period from May to September – and its single flowers offer a rich source of nutrition for countless pollinators. Courtesy Dummen Orange.