VertiFarm 2023 fanned the industry's interest in CEA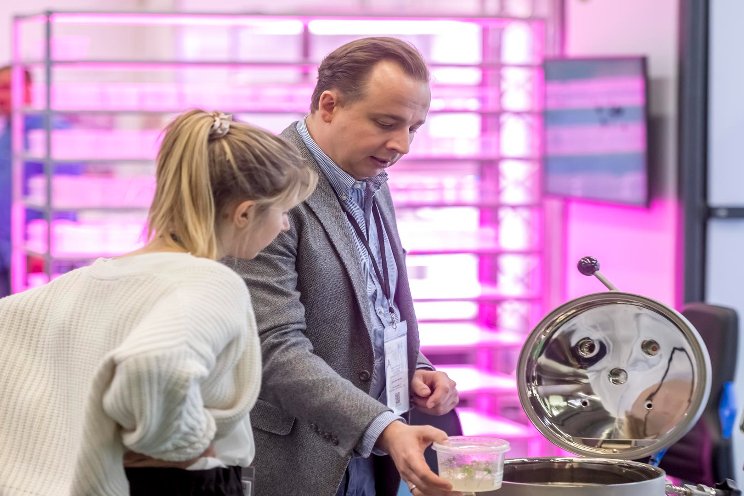 From 26 to 28 September, VertiFarm – the next-level farming and new food systems show – re-directed the spotlight onto sustainable transformation in agriculture and the production of alternative foodstuffs. The international exhibition showcased innovative concepts, technological innovations and new products and services with an eye to ensuring sustainable food supplies well into the future.
VertiFarm, the international next-level farming and new food systems show, proved a great success for the second time at Messe Dortmund, with around 100 exhibitors from 17 countries showing solutions to global challenges such as crop failures, food supplements, security of supply and urban sustainability at this unique and highly informative buyer-meets-seller forum promoting controlled environment agriculture (CEA). The businesses in attendance were accompanied by a host of experts from the world of science, with bodies such as the Fraunhofer Institute for Environmental, Safety and Energy Technology UMSICHT, Darmstadt University of Technology and the Southern Westphalia University of Applied Sciences presenting new research projects at the show.
Exhibitors attest to excellent quality of participants and report signing new business transactions
"With VertiFarm, we have created a superb forum for controlled environment agriculture that highlights workable solutions to ensure security of food supplies well into the future. At the industry get-together, developers, manufacturers, distributors and other expert industry players were able to obtain crucial inspiration, exchange ideas on new approaches and identify suitable partners for implementing them. A large number of projects were initiated, launched or finalised here – all at a very high international level," explained Sabine Loos, chief show organiser and Managing Director of Westfalenhallen Unternehmensgruppe which owns and operates the Messe Dortmund venue.
The 100 (approx.) VertiFarm exhibitors in Dortmund between 26 and 28 September included everyone from start-ups to global market leaders, with a good 46% of them travelling to the venue from outside Germany – from countries including the Netherlands, Norway, Sweden, Denmark, Italy, the United Kingdom and elsewhere in Europe as well as North & South America and Asia.
Product Development Engineer Lutz Kaiser (ROKO Farming) was an exhibitor at the inaugural VertiFarm and judged the follow-up show to be a major success: "VertiFarm was a great show for us last year, and we left with a host of orders and great experiences. The interest and the need for vertical farming are definitely there, and the show reflects the spirit of the times. The show's focus means the quality of visitors is tremendously high. It's refreshing that everyone involved is already familiar with the subject matter, and that we can focus on quality conversations without having to explain the basics." Wolfgang Richter from Thermal Management Sales at Weiss Klimatechnik emphasised: "VertiFarm attracts a knowledgeable, interested audience that's passionate about innovative agricultural solutions. The exhibitors and trade visitors are well acquainted with each other, which is what distinguishes the high level of this show. The show has great potential to grow further and advance the sharing of knowledge and ideas in the industry."
High international attendance
Around 40% of this year's participants came from abroad, a large number of them from the Netherlands, France, the UK and Denmark, for example, and with many participants travelling in from Austria, Switzerland, Sweden and Spain. In fact, visitors came from a total of 40 countries around the world. According to an independent survey, around 90% of participants were "satisfied" or "very satisfied" with their visit to VertiFarm 2023.
Christine Zimmermann-Lössl, Chairwoman of the Association for Vertical Farming (AVF) and technical partner to the show, also emphasised the relevance of this industry event: "VertiFarm is extremely important, as this unique forum gives people the opportunity to share useful information and grow their vertical farming networks. The dialogue with professionals helps exhibitors grow their expertise, expand their knowledge and make important contacts in specific areas. One special highlight is our AVF Summit which specifically links these points again and makes the show an important meeting point for the industry."
On-site event: the 7th International AVF Summit
The two-day annual convention on 26 and 27 September run by the AVF, the world's leading non-profit organisation in its field, welcomed prominent scientists, industry and government representatives and investors who engaged in discussion on the key themes of Science & Research, Technology & Sustainability and Food & Cities. In addition, several promising start-ups in the fields of agriculture, renewable energy and sustainable technology were given the opportunity to present their innovative solutions to a panel of experts and potential investors.
First-rate programme line-up
The three-day stage programme was also very popular, with keynote talks and discussion panels featuring experts in agriculture, science, industry, trade and start-up businesses addressing the future of food and agriculture as they go through this period of transition. The focus topics included 'Innovation & Technology', 'Finance & Funding', 'Ecological & Economical Balance' and 'Efficiencies'.
Sold out: specialist excursion through the Netherlands and visit to VertiFarm
An exciting tour of the Netherlands (the world's largest exporter of agricultural products) on the day before the show took experts to the Bosman Van Zaal company, a specialist in intelligent plant production systems, and to an algae plant to learn more about alternative proteins. The final stop was a visit to a fully automated ornamental flower production facility. The excursion was fully booked well in advance.
The date for the next VertiFarm has now been set, with the next show scheduled to be held from 8 to 10 October 2024 – at Messe Dortmund again, naturally.
All key information, updates and developments concerning the show can be found 24/7 on the show's website, LinkedIn, Instagram , Facebook and via newsletter.
What people had to say about VertiFarm 2023
Partners:
Christine Zimmermann-Lössl, Chairwoman of the Association for Vertical Farming (AVF)
"VertiFarm is extremely important, as this unique forum gives people the opportunity to share useful information and grow their vertical farming networks. The dialogue with professionals helps exhibitors grow their expertise, expand their knowledge and make important contacts in specific areas. One special highlight is our AVF Summit which specifically links these points again and makes the show an important meeting point for the industry."
Sponsor:
Galen Zhou, Global Sales Director at Fujian Sananbio Technology Co Ltd
"VertiFarm attracted a high-quality visitor audience that was extremely interested and enabled us to hold significant discussions. We're definitely planning to attend again next time."
Exhibitors:
Liliana Rahn, Account Manager, Food & Beverage – New Food at Siemens AG
"Thanks to VertiFarm, we were able to present our brand to the industry to great effect. It's been a real success. We've been able to make a great many acquaintances from across Germany and beyond. We've met a lot of interested people and had important conversations."
Johann Waldherr, Business Development Manager at Würth ElektronikeiSos GmbH & Co KG
"We came to VertiFarm to fly our flag, make contacts and exchange information on the latest things in the industry. The atmosphere at the show was very pleasant. The visitors were extremely well prepared and had clear ideas about what they need. This enabled us to have high-quality conversations that generated clear interest in our products. We look forward to participating again."
Wolfgang Richter from Thermal Management Sales at Weiss Klimatechnik GmbH
"VertiFarm attracts a knowledgeable, interested audience that's passionate about innovative agricultural solutions. The exhibitors and trade visitors are well acquainted with each other, which is what distinguishes the high level of this show. The show has great potential to grow further and advance the sharing of knowledge and ideas in the industry."
Steffen Zöller, Senior Business Development, New Markets at Bosch Rexroth AG
"The show is characterised by a great atmosphere that makes it possible to network with other exhibitors and make valuable contacts. The organisational aspects of the show were superb: it all ran smoothly, and the support from the event organiser was first class. As a newcomer to the industry, we used the show to aid our entry to the market and present our modern automation systems to good effect."
Edwin Snabel, Technical Sales Consultant at Bosman Van Zaal BV
"The show focuses specifically on vertical farming and indoor farming, which allows us to emphasise our core competency and highlight our expertise in this space. We're delighted that our offering at VertiFarm was also able to appeal to international customers in a whole range of industries."
Renko Schuil, Sales Manager, Indoor Farming at TTA BV
"At VertiFarm we were able to make new and fascinating contacts and have meaningful conversations. Given the current changes happening in our industry, VertiFarm is an opportunity to explore and actively shape the resilience, opportunities and future direction of the market."
Fred Ruijgt, Manager, Indoor Growing at Priva Horticulture BV
"This is the first indoor farm exhibition in Western Europe. All the key players are here at VertiFarm, which is highly beneficial. We'll continue to work together to grow both the industry and the show."
Marc Juarez, Innovation Director, Europe at Seoul Semiconductor Europe GmbH:
"Our interest in taking part in VertiFarm is very high because we're convinced the industry is going to continue to become more important in future. As a result, the show is the optimum place to see and be seen, introduce new products and engage with partners and customers."
Adam Abadi, Business Development Manager at Cultivatd Inc.
"As the industry's largest intermediary, VertiFarm is naturally extremely attractive to us because it gives us the opportunity to present our services to a wide audience. It's particularly important for us to network with other businesses, to stay abreast of everything, to discuss current topics of interest and tackle any problems in the industry together. We're bowled over by the passion that prevails in the industry and are using the show above all to engage with other exhibitors and offer bespoke advice to interested visitors."
Luis Trujillo, President of Hoogendoorn USA Inc.
"The atmosphere at VertiFarm is amazing. There are many changes in the industry, and the show is the ideal opportunity to demonstrate these changes and growth. We've also been using the show to introduce our new product. IIVO Vertical offers new solutions the industry needs. At VertiFarm, we've been able to show it to the right target audience."
Alessandro Mazzacano, Export Area Manager at Urbinati S.R.L.
"For us, it's crucial for the most important players in the market to be represented in order to promote the sharing of knowledge and reach the contacts and customers that are crucial for us in the industry. VertiFarm provides a great platform for quality visitors and exhibitors, which is the most important element for success."
Lutz Kaiser, Product Development Engineer at ROKO Farming GmbH & Co KG
"VertiFarm was a great show for us last year, and we left with a host of orders and great experiences. The interest and need for vertical farming are definitely there, and the show reflects the spirit of the times. The show's focus means the quality of visitors is tremendously high. It's refreshing that everyone involved is already familiar with the subject matter, and that we can focus on quality conversations without having to explain the basics."
Velimira Iordanova, Chief Executive of BroodWormFarm e.V.
"We're thrilled by the favourable response at VertiFarm. Some visitors were sceptical about the connection between mealworms and vertical farming, but we succeeded in convincing them quickly with the versatility and flexibility of our product. The visitors and exhibitors at VertiFarm are generally extremely knowledgeable and highly interested, which enabled us to make new contacts and develop plans for future innovations even on Day 1 of the show. Although it's too early to assess the outcome of the show, we're pretty confident about what's been achieved."