Seasonal fairs in 2023 with Meet & Trade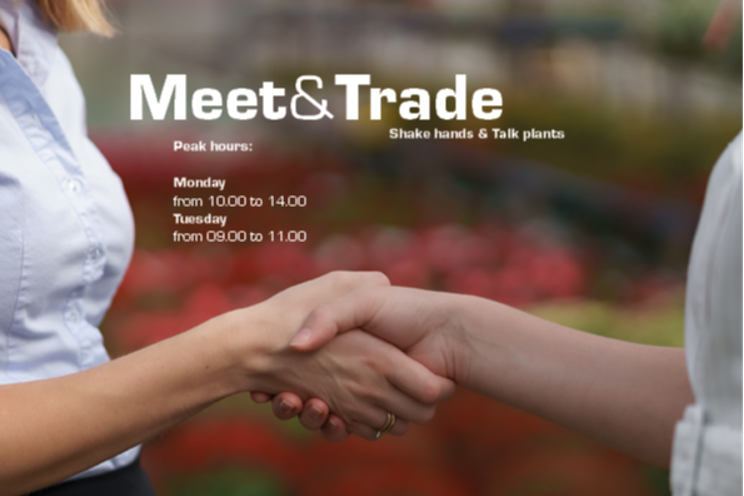 In the top 3 months of the year, GROEN-Direkt organises 4 seasonal fairs. The Spring Days is the first seasonal fair in the series, where besides the extended opening hours, the huge seasonal assortment is also a good reason to visit the Spring Days. Thousands of sample lots, Solitaries, Mediterranean imports and Concepts will be on display on 3 and 4 April. The Spring Days includes Meet & Trade. The Continuous Assortment will be renewed at the Spring Days.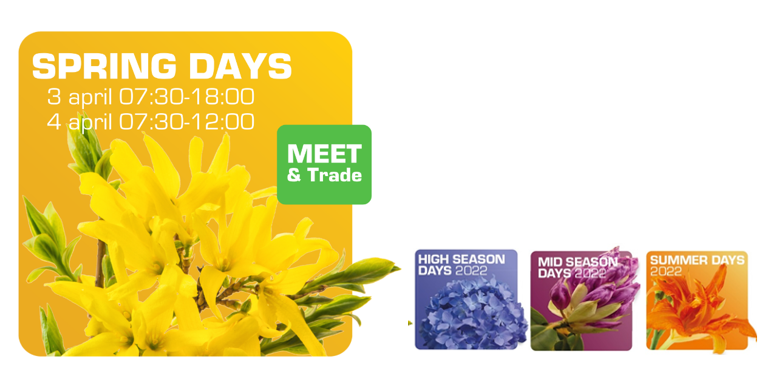 All seasonal trade fairs at a glance
The GROEN-Direkt trade fair calendar in spring is dominated by weekly trade fairs as well as special seasonal trade fairs: Spring Days (3-4 April), High-Seasondays (1-2 May), Mid-Seasondays (22-23 May) and the Summer Days (12-13 June). GROEN-Direkt is going the extra mile at the seasonal fairs with a huge seasonal offer, Meet & Trade and Continuous Assortment.
Extra KVBC novelty test during the GROEN-Direkt Summer Days on 12 and 13 June
At the GROEN-Direkt Summer Days, PLANTARIUM|GROEN-Direkt is organising an extra novelty inspection together with the KVBC! With this, the KVBC offers another visual inspection opportunity at the beginning of summer.
NEW in 2023: Meet & Trade and Continuous Assortment
New in 2023 is the introduction of Meet & Trade and the Continuous Assortment. Meet & Trade allows garden plant buyers and growers to meet each other. During the special peak hours (Monday 10 a.m. - 2 p.m. and Tuesday morning from 9 a.m. - 11 a.m.), garden plant buyers and traders meet growers at their 2CC stand while enjoying coffee, sandwiches, and a hot snack. The Continuous Assortment will remain purchasable in the physical and online offerings for an extended period of time. This assortment involves products that maintain the same growth and flowering stage for a longer period, such as Buxus, Prunus and Taxus.
Dates of seasonal fairs with Meet & Trade
Spring days : 3 and 4 April
High-Season days : 1 and 2 May
Mid-Season days : 22 and 23 May
Summer days : 12 and 13 June

Opening hours Seasonal fairs:
Monday : 07.30 - 18.00 hours
Tuesday : 07.30 - 12.00 hours

Fair address:
Norwaylaan 37, 2391 PW Hazerswoude, The Netherlands (ICT site)
View the full exhibition calendar here


About GROEN-Direkt
As Europe's largest green marketplace, GROEN-Direkt has been bringing together supply and demand of garden plants for more than 25 years. The combination of 30 sample fairs per year and a webshop with up-to-date sample photos allows GROEN-Direkt to offer a very wide and up-to-date range of garden plants all year round. GROEN-Direkt works closely together with 500 specialised growers in the Boskoop area and far beyond.
Would you like more information about GROEN-Direkt, the sample fairs or the webshop? Go to www.groen-direkt.nl or call +31 (0)172 21 15 76.