IPM ESSEN 2023 starts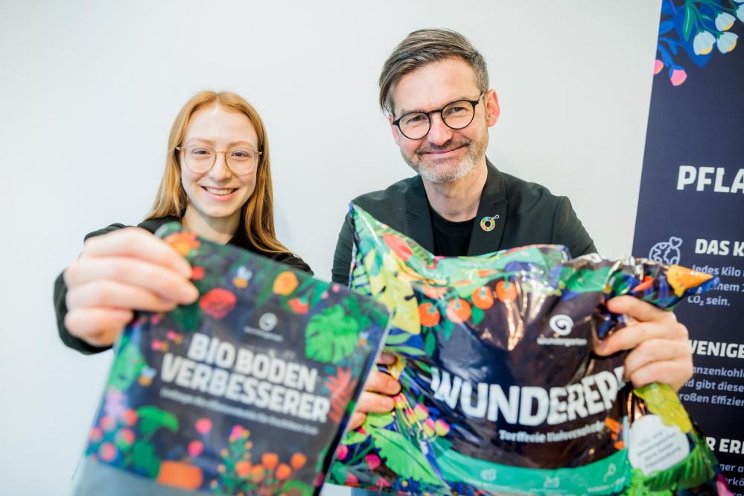 The international green sector has been waiting for this: IPM ESSEN opens its doors again after a break due to the pandemic. The world's leading trade fair for horticulture will attract visitors from 24 to 27 January 2023 with a full supporting programme, trend-setting products and numerous networking and ordering opportunities. 1,330 Exhibitors from a total of 46 nations are expected at Messe Essen. The trade visitors will experience further developments and innovations in the fields of plants, technology, floristry and garden features throughout the entire fairground. Great Britain will be presenting itself as the partner country.
"In view of the current economic and ecological challenges, the desire for an exchange of information and innovations is high. IPM ESSEN offers the ideal platform to work out solutions around topics such as sustainable production, fragile supply chains or the shortage of skilled workers. After three very dynamic years, Essen will again be the meeting place for the global green sector for four days with the International Plant Fair. We are looking forward to more than 1,300 exhibitors," Oliver P. Kuhrt, CEO of Messe Essen, gives an outlook and continues: "The response is excellent, even though the Asian market is notoriously reticent; unfortunately, the strict travel regulations in particular are still making it difficult to plan the fair this year."
"Quintessentially Green & British"
Supported by the British Department of International Trade and the British Embassy, Great Britain will present itself as the partner country of IPM ESSEN 2023. The exhibitors on the joint stand in Hall 7 will show products from the fields of plants, technology and equipment. Another highlight is the International Horticultural Forum. Under the motto "Quintessentially Green & British", it will deal with sustainability issues, the value of new plants and the marginal farm model. A delegation of British gardeners will visit the fair to find out about new products. There will also be live British music and bagpipes to entertain visitors.
The exhibition areas at a glance
The "Plants" exhibition area is represented in Halls 1, 2, 5, 6, 7, 8 and the Galeria: from cut flowers, bedding and balcony plants, herbs, snack vegetables and indoor plants to Christmas trees, perennials and woody plants. Among them are many new varieties and further developments. New themed tours on climate trees and perennials with a meeting point in Hall 6 show sustainable plant ranges.
In the technical area in Halls 3, 4 and the Galeria, resource-saving production is one of the top themes. With the new Innovation Centre for Horticultural Technology in Hall 4, trade visitors will have an exclusive place to find out about smart technology and get advice. In addition, gate reduction plays a role and start-ups as well as research and scientific institutions present current projects.
Hall 5 is home to exhibitors from the "Floristry" sector. Plug-in sponges, ribbon, felts, vases, cachepots, plant bowls, decorative elements and greeting cards are part of the range. The Concept Store will be celebrating its premiere, presenting complementary assortments for the specialist trade in an open concept ranging from tableware to delicatessen. In Hall 5, young companies will also be presenting their ideas at the "Young Innovative Companies" joint stand, which is sponsored by the German government.
The "Garden Features" area is spread across the entire grounds. It includes software and cash register systems, labels and displays as well as shop fitting and accessories for the presentation of goods. This is also what the IPM Discovery Center in Hall 7 is all about. Green stylist and creative director Romeo Sommers stages the exhibitors' products in coherent and sales-boosting concepts for the point of sale.
The Green City in Hall 1A attracts visitors to the world's only revolving stage with live floristry from master craftsmen, inspiring showrooms and workshops. The Association of German Florists (Fachverband Deutscher Floristen – Bundesverband FDF) will be presenting itself as a partner. Green City is also home to other green associations. For example, the North Rhine-Westphalia Horticultural Association (Landesverband Gartenbau Nordrhein-Westfalen), together with the Central Horticultural Association (Zentralverband Gartenbau) and its sub-associations, will be inviting visitors to the Horticultural Information Centre.
Opening hours and tickets
IPM ESSEN will be open from 24 to 27 January 2023 at Messe Essen for trade visitors only, from 9 a.m. to 6 p.m. on Tuesday to Thursday and from 9 a.m. to 5 p.m. on Friday.
Further information and tickets at: www.ipm-essen.de