AAS presents Medallion of Honor at 2023 Summer Summit
Added on 14 September 2023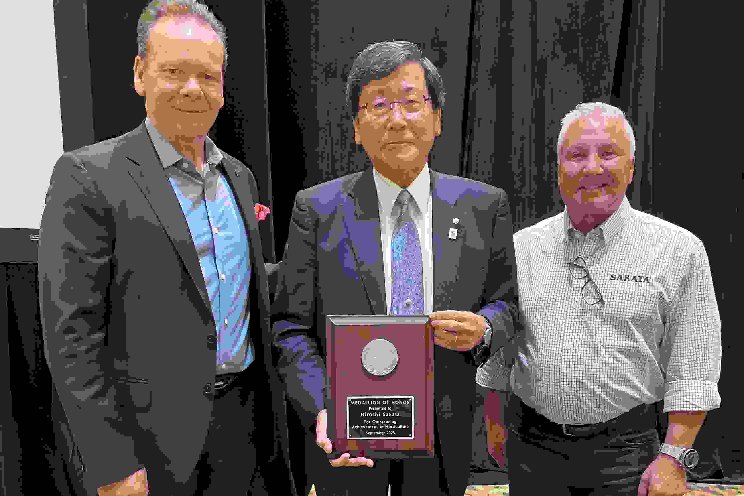 AAS Medallion of Honor
The prestigious AAS Medallion of Honor is typically presented to an individual who has dedicated their career to the advancement of horticulture and contributed to raising the visibility of All-America Selections and the varieties that become AAS Winners.
Joe Cimino, Senior Director – Ornamental & Solutions Business Groups, Sakata America, and Dave Armstrong, President & CEO, Sakata America, introduced Mr. Sakata at the Summer Summit banquet. The two men detailed Mr. Sakata's achievements as well as Sakata Seed Corporations' contributions to AAS and the horticulture industry over the years.
Born in 1952 in Kamakura City, Japan, Mr. Sakata graduated from Keio University in 1974, specializing in economics. Upon graduation, he joined the Dai-Ichi Kangyo Bank, Ltd. (now Mizuho Bank, Ltd.). After a seven-year stint in the world of finance, he joined the family business in 1981. Mr. Sakata held various positions throughout the company, rising to the rank of president in 2007. He's also an advisor and former chairman of the Japan Seed Trade Association, President of the Kanagawa Seed Cooperative Association, and chairman of the Japan Home Garden Association.
The first Sakata variety to win an AAS award, in 1934, was the Victorious Mix petunia, the world's first all-double petunia. The corporation has gone on to win 52 AAS Awards including seven just for the Profusion line of zinnias, four of which are AAS Gold Medal Winners.
In a unique occurrence, Mr. Sakata is the third recipient of the Medallion of Honor from the Sakata Corporation. Founder Takeo Sakata (grandfather of Hiroshi Sakata) won the award in 1965 and was the first foreign winner of the award. In 2005, former Senior Managing Director Shunichiro Suda was bestowed the award.
All-America Selections, the breeders, judges, board of directors and all the companies they represent, proudly salute this industry achiever who has done so much for the industry in general and for All-America Selections specifically.
For more information, please contact Diane Blazek at 630-963-0770