Electronic Magic Flower deployed to improve quality
Added on 12 September 2022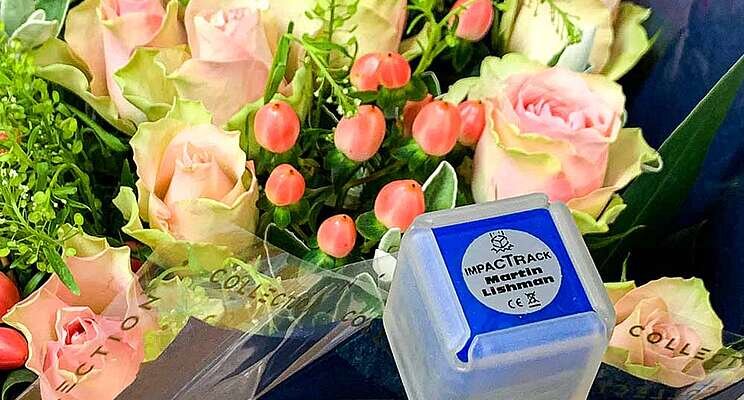 These are the challenges facing the global cut flower industry during all stages of processing and handling from the grower to the consumer.
To analyse where impacts and temperature fluctuations occur, both within international supply chains and home delivery networks, UK-based MM Flowers turned to a data logger typically used in the fresh produce industry. The data captured gives the team an opportunity to test understand exactly where problems occur and then develop mitigation methods and remedial procedures to reduce waste and improve the quality of the flowers.
Developed by UK-based crop quality specialists Martin Lishman Ltd, ImpacTrack is a shock sensing data logger that sits inside dummy produce shapes designed to replicate the movement characteristics of fresh produce during handling and transport.
Using advanced 3D printing technology, Martin Lishman's in-house design team can create virtually any shape of fresh produce that requires monitoring. "I discovered the ImpacTrack during my PhD where the device was placed into a 3D-printed electronic parsnip, which was used to identify destructive processes that cause damage to roots during post-harvest processing", explains Technical & Quality Developer of MM Flowers, David Booth. "I could see its value for the cut flower market, so I worked with Martin Lishman to create what we have dubbed the Magic Flower".
"Designed to be the same size and shape as a premium-quality rose and complete with interchangeable stem length, the Magic Flower is placed in a bouquet for shipping. Supply chain challenges can cause sub-optimal transit conditions, so monitoring temperature and impacts during transit is key to identifying opportunities to improve the quality of our flowers", adds David.
ImpacTrack shapes can be made to a customer's specific requirements, to ensure that they behave and react (including floating in water) in the same way as the real items being processed. The data recorded is as close as possible to the actual impact and temperature exposures.
The data from the ImpacTrack is transmitted in real time using Bluetooth to the ML Sensing smartphone App, making it ideal for on-site analysis of handling equipment. Operators can also use the App to record the journey of flowers during shipping and other transport methods. The data is downloaded at the end of the journey and provides a record of impacts sustained and the temperature history. As well as helping to improve transport packaging, this can provide insurers with evidence of where damage has taken place.
"The ImpacTrack gives MM Flowers an objective insight into how the flowers are being handled, highlighting impacts that would be very difficult to see with the naked eye and sudden changes in temperatures that could be potentially missed with traditional monitoring methods", explains Gavin Lishman, Managing Director of Martin Lishman Ltd. "The cost savings from even minor machine or packaging adjustments can be significant; given that the cost of the unit is relatively low it represents an unrivalled return on investment in this category of quality control".
Martin Lishman has worked with growers and producers worldwide to create a whole plethora of different ImpacTrack shapes, with the most recent being a full-size pineapple. Thanks to Martin Lishman's experienced in-house design team, new shapes with many different sizes, weights and shapes are constantly being created.
"Martin Lishman's service has always been exceptional, throughout my association with them during my PhD and at MM Flowers. The technology continues to progress, and the price has come down, making employing the loggers at scale more realistic. We have used the Magic Flower over 40 times, and it has proved to be robust; we haven't even needed to change the battery yet. Access to the data is straightforward either via smartphone or via download for analysis. I would recommend the ImpacTrack to any fresh produce professional looking at reducing or mitigating processing or harvesting damage", David concluded.
Source: HortiBiz