Cucumber lighting in a greenhouse with Valoya spectra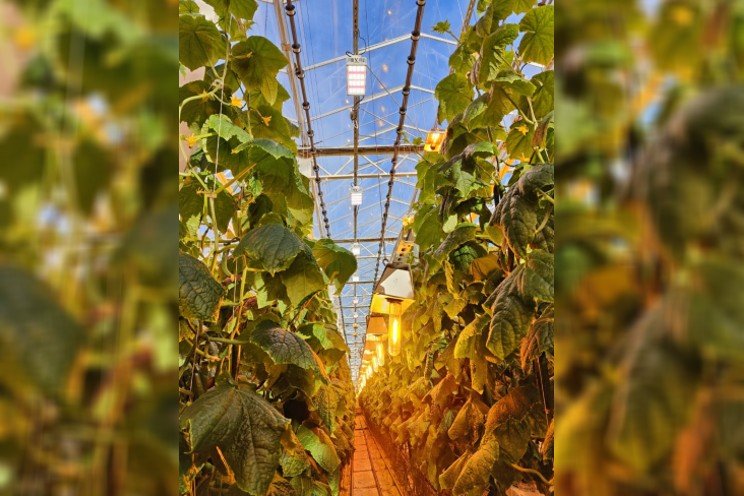 Puutarha Timo Juntti Oy was established in the 1960's. They have a lot of experience with cucumber growing. Another crop product they have in cultivation is tomato, which was brought back to production after a break of a few years. Cucumber is still their most important crop. Quality and ecological values are important for them throughout the production and supply chain. Their greenhouses represent modern technology. Trying out new technology and trying new, innovative products or production methods has been at the core of their activities.
Trial spectra
With this trial, Valoya is examining two different spectra: Solray385 and S2. Solray385 is a white light spectrum: it is optimized sunlight for commercial horticulture and research applications. The CRI (Color Rendering Index) value of Solray385 is 90, whereas sunlight CRI is 100. Under Solray385 working is more comfortable compared to traditional LEDs. Solray385 can be used both sole source and supplemental light. From broad spectra plants will receive all the wavelengths they need even in the dark winter months in the Nordics.
S2 is efficient spectrum to boost biomass accumulation and yield in greenhouses. This spectrum focuses on the most effective wavelengths, which result to improved energy efficiency and lower operational costs. S2 can be used for supplementing natural sunlight or in hybrid lighting solutions.
Different growth factors during the cultivation
It is always good to keep in mind that changing one growth factor affects to other growth factors. For example, if the additional light will enhance the plant's growth, CO2 levels and irrigation levels might need to be increased. Switching from HPS to LEDs grower might need to add some other heating, since the LEDs are not producing as much heat compared to HPS. On the other hand, quite often HPS fixtures produce too much heat and grower needs to use ventilation for decreasing the greenhouse temperature.
The trial will continue until the end of winter 2024. If you are interested to hear more about the trial, contact to our sales: sales@valoya.com.
Photo: Fig. 1 RX325 with Solray Spectrum
Click here for more information.