Positioning Dutch Horti sector in S. Arabia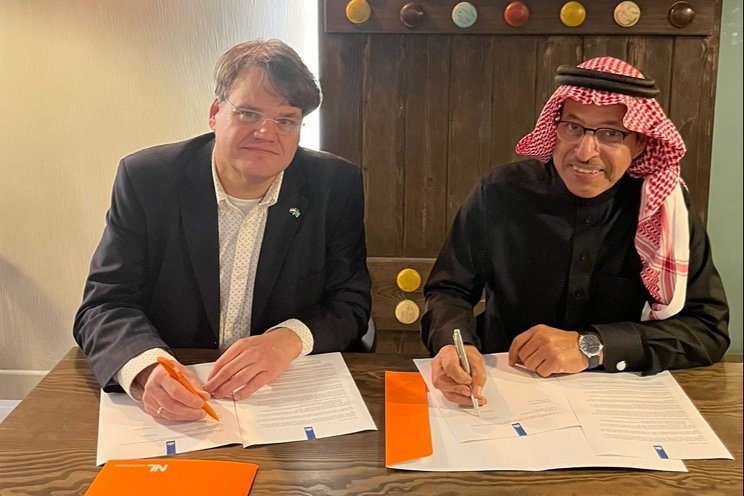 Lobbying and networking
The public-private partnership HortiRoad2theGulf started in 2021 and helps Dutch companies jointly to realize their ambitions in the Gulf. Currently, 23 companies and knowledge institutes, supported by the Dutch government, work together to improve sustainable food production and reduce food losses in the Gulf region. The Kingdom of Saudi Arabia is by far the largest market in the Gulf and is currently on the brink of stepping up its interest in high-tech agriculture solutions. The PIB HortiRoad2theGulf cluster made several trips to Saudi the last few years and as a result, the large agricultural funds and the Ministry of Environment, Water, and Agriculture (MEWA) have expressed interest in collaborating with the Dutch in water and horticulture.
Dr. Al-Harbi gained extensive knowledge about the full extent of the challenges and opportunities of the horticulture sector in the Gulf and in Saudi Arabia specifically. He is well-known with the relevant authorities, knowledge institutions, and private local companies. This extensive network of contacts will help the PIB HortiRoad2TheGulf to attain its objectives in Saudi Arabia. As a liaison officer, Dr. Al-Harbi will support the cluster with lobbying and networking, initializing and following up on projects and business opportunities, as well as executing promotional activities. He will represent the Dutch sector and the cluster during expositions, missions, roadshows, and other trade events, and invite potential useful commercial, government, and media contacts from Saudi Arabia.
Identifying and capitalizing on opportunities
Dr. Al-Harbi also supports the cluster in gaining access to the decision-makers and companies, in cooperation with the Dutch government and representation abroad. He is the focal point for local governments, research institutions, and possible future business partners. Besides, he identifies opportunities for the group of companies and connects them with the sector and companies in the target country. Dr. Alharbi looks forward to his new role; ''Together, we would like to improve the efficiency of the horticulture sector and contribute to food security and sustainability in Saudi Arabia.''
We look forward to interesting and fruitful cooperation and wish Dr. Abdulaziz Alharbi every success.