DGD and Lemon Chilli Farms sign MoU
Added on 13 September 2023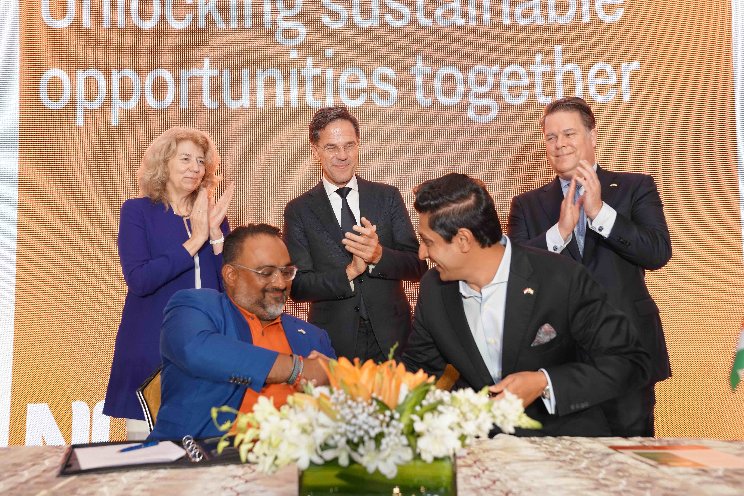 The Memorandum of Understanding (MoU) was signed in the presence of the Dutch Prime Minister, Mark Rutte, and the founder of Lemon Chilli, Janardhan Rao Yalamanchili alongside Desh Ramnath, who serves as the representative of Dutch Greenhouse Delta on behalf of the Dutch cluster 'NLHortiRoad2India'. This partnership consists of Dutch government and high tech horticultural suppliers, collaborating on the sustainable transformation of India's emerging food markets. Cluster members Priva, Koppert, and Broekman Logistics were also present at the signing.
Lemon Chilii Farms is located in the vicinity of Hyderabad. The company produces a variety of vegetables, herbs, and fruits, being one of the few businesses in India using Dutch technology. Lemon Chilii Farms and the participating partners of NLHortiRoad2India will collaborate on future developments to produce fresh, safe, and profitable food in a sustainable manner. Their joint effort focuses on cultivating high-value, residue-free crops in India, thereby promoting local production, boosting employment within the Indian Agri-tech sector, and reducing the need for transporting and importing fresh produce.
Through this dynamic partnership, both entities are committed to accelerating the creation of a fresh, secure, and profitable food production ecosystem tailored to India's unique needs. Mr. Rithish Babu Velkur, CEO, Lemon Chillii Farms comments: "This collaboration marks a significant stride towards transforming India's agricultural landscape. We are dedicated to fostering a greener, healthier, and more sustainable future for our nation".