Artechno Growsystems newcomer to Hillenraad100
Added on 14 November 2022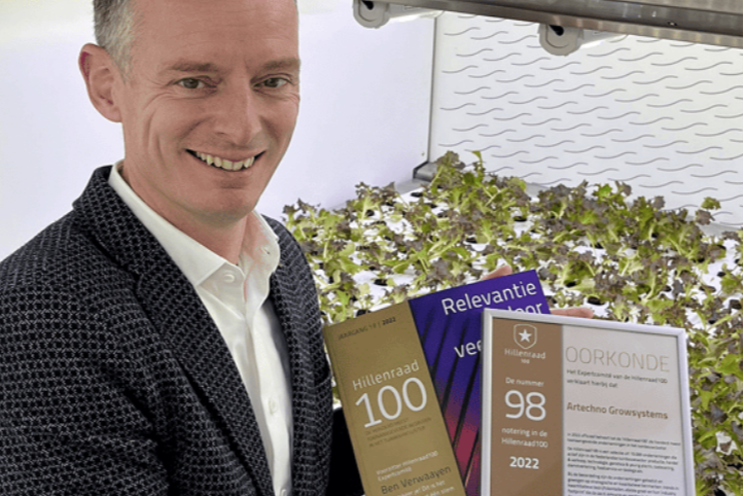 Artechno Growsystems as the newcomer
"Artechno Growsystems has the guts to take this step forward. The De Lier-based company shows great promise with its solutions for the relatively new field of Vertical Farming. The AVF+ Factory enables the grower to create the exact growing conditions needed for maximum growth, production, and harvest predictability. This technology is just on the market, and Hillenraad considered it important for a specialized player to be part of the leading Hillenraad100. The fact that Artechno is pushing forward is evident from multiple big orders being completed in 2023, nationally and internationally. The new and experienced CEO, Marco van der Velden, will focus on expanding the global position of the Artechno Group, the further standardization of products, and the realization of the move to an extra location in Maasdijk. We will follow this newcomer with interest." Says Anita Bassie of Hillenraad100.
Artechno Growsystems has gone through many different innovations this year. These include doubling the Artechno team, optimizing various products, launching a new website, and planning the relocation to larger premises next year. The first quotation in the Hillenraad100 is a recognition of the company and the steps Artechno Growsystems has taken this year. Artechno team is proud and will continue the strides in individuality and collectivity in the future.
Internationalizing Artechno
Internationalization is a clear trend among the Hillenraad top 100 companies. Artechno is happy to participate in this trend. The company is present at many different major international trade shows. In January 2022, it opened its doors to its second international branch, Dubai. Together with the United States office, it forms our focus points for the international target market.
Hillenraad100 companies
Companies in the Hillenraad top 100 are true innovators in sustainability, with a combined turnover of 12.43 billion euros. This is a 17.5% increase compared to 2019. This increase shows that there is still plenty of room in (greenhouse) horticulture to continue innovating, increasing sustainability, and digitizing.
Photo Courtesy of Artechno