20 VF companies ink industry manifesto
Added on 20 September 2022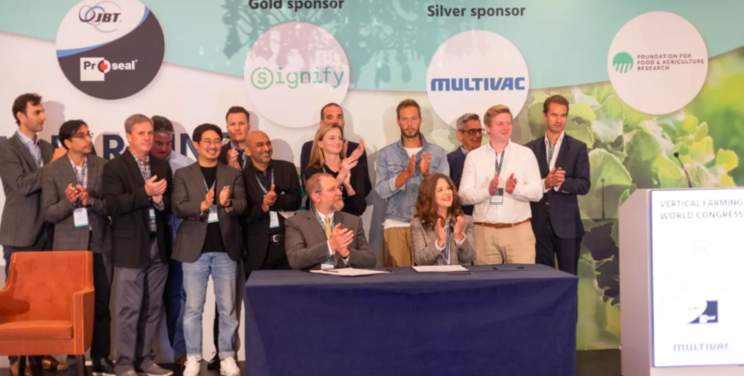 ˇ Signing vertical farming companies are 80 Acres, AeroFarms, Bowery, Crop One, CubicFarms, Elevate Farms, Fifth Season, Fischer Farms, Freight Farms, Infarm, Infinite Acres, Jones Food Company, Kalera, La Grangette, Ljusgĺrda, N.THING, Plenty, Stacked Farm, Urban Crop Solutions, Urban Harvest, Vertical Future, YesHealth Group and ZipGrow
ˇ The Vertical Farming Manifesto was signed at the Vertical Farming World Congress in Brussels (September 19-21).
Vertical farming companies signed the first Vertical Farming Manifesto and Identity - both clear and bold industry standards. They highlight the impact and contribution the industry intends to make to transform current food systems and help to solve one of humanity's toughest challenges of providing food for a growing population in a sustainable, circular way.
"Since Day 1, AeroFarms has been proud to pioneer and lead indoor vertical farming that has now blossomed into a major force to address our agriculture and climate challenges. As Certified B Corp, we are proud to serve as a catalyst to advance our industry forward as a collective as we continue our mission to grow the best plants possible for the betterment of humanity." Comments David Rosenberg, CEO and Co-Founder, AeroFarms
"As a purpose-driven company, we have always been driving and advocating for the change of the current food systems. Coming together as an industry and collectively expressing our shared values in a joint identity and manifesto is truly powerful. Together, we can really make a difference and this is just the beginning. Infarm is proud to work along with industry peers on a new food system" Adds Erez Galonska, CEO, Infarm
The Vertical Farming Identity and the Manifesto describe the urgency of transforming current food systems and explain how vertical farming systems can contribute significantly to designing food systems which are resilient and future-proof. Through technological innovation, indoor vertical farming decouples food production from external factors like climate or public health crises. By localising production and controlling the growing environment, vertical farming provides pesticide-free produce, uses significantly less land and water, and requires fewer transportation miles.
"Indoor vertical farming will - and must - transform our food system. For that to happen, we must work together as an industry to align on a shared vision and standards," said Dana Worth, SVP of Commercial at Plenty. "We look forward to working with others in the industry and our key stakeholders to define those standards and deliver products that are great for consumers, profitable for retailers and good for the planet."
Toward the industry's goal of driving the transformation of food systems, the companies strive to set high standards by aligning with globally accepted impact frameworks, for example, the Science Based Targets initiative (SBTi), B Corp, or the United Nations Sustainable Development Goals (SDGs). Furthermore, the industry is dedicated to continuously investing in research and development to improve vertical farming technology and grow even smarter and more sustainable food systems.
"Vertical farming technology can make fresh, local, sustainably grown food accessible to everyone. The potential is incredible, but we can only live up to it if we grow thoughtfully, taking the quality of our business practices as seriously as we do the quality of our produce. I am glad to see the industry rally around these standards." mentions Tisha Livingston, CEO, Infinite Acres
Image provided by Infarm
Source: iGrow News